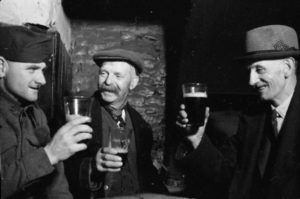 July is ending, August beginning. And with the setting sun this last night of July, the wheel of the year shifts another cog and we take a subtle, decisive step, by traditional reckoning of time, anyway, toward autumn. Subtle, because the shift is most certainly a gradual one. Summer's heat will persist for many more weeks, especially here in Lake Worth. But the change is undeniable: days have been steadily growing shorter since the June solstice, and here, at this late summer juncture, as July shifts into August, we find ourselves nearing the halfway point between that solstice of Midsummer and the upcoming autumnal equinox in September.
This cross-quarter day on the First of August is known as Lammas (or Lughnasadh (LOO-na-sa) in the Celtic tradition). It is perhaps the least celebrated of the old cross-quarter celebrations, and that is too bad. It is the first of the harvest festivals, and on this day it is traditional to enjoy the things of that harvest: to bake bread and to partake of the more spirited things that emerge from the grain that gives us bread: a pint of ale, a dram or two of whisky. The name John Barleycorn is one you may hear these Lammastide days. It comes from many an old song praising the personification of ale and whisky. Some are sad and some are jolly, but all understand that John Barleycorn must be cut down in order to be born again in the form of bread and alcohol. (Well, to be honest, the folks singing these songs weren't much concerned about the bread. They are old drinking songs, after all.) John Barleycorn is that sacrificial first harvest.
Our friend William Shakespeare understood this well, perhaps because Lammas was a widely celebrated holiday in his time, and in Romeo and Juliet, Juliet, we learn, was born at Lammastide, on the 31st of July. "On Lammas Eve at night shall she be fourteen," says her nursemaid in the first act of the play. The action all takes place in these last few days of July, and poor Juliet never makes it to that birthday; she, too, is like a sacrificial first harvest.
Lammastide marks for us the subtle transition of summer to autumn, and this is the value of Lammas. A holiday certainly of our agrarian past, but so useful for us today. A gentle coaxing, an acknowledgment of our days growing shorter and darker, and a hint of bounties to come. If you can bake a loaf of bread in the next day or two, wonderful: do so, and take delight in that. A crusty loaf from your local baker would do just as well. And if you take a drink, then please raise your glasses to each other and to me, if you will, and to old John Barleycorn.
Give me my native nut brown ale,
all other drinks I scorn,
For English cheer is English beer,
our own John Barleycorn!
Summer is waning, autumn approaching, and we begin to turn our thoughts toward gathering in. John Barleycorn brings a bit of melancholy but a bit of warmth as well––warmth in his crusty bread, warmth in his spirits, warmth in the ones we gather with to celebrate. Happy Lammastide. I'll write again once the Convivio Book of Days calendar for August is ready for you; it may be Sunday, but it most likely will be Monday or Tuesday.
SUMMER SALE
Our Summer High Five Sale continues through this Lammastide and through late summer! Use the discount code HIGH5 at checkout for $5 off your order of $35 or more. Take it to $50 and you'll earn free domestic shipping, too. That's on everything in the shop. And what's new in the shop? Well, Millie's Tea Towels are a hit! Mom has been embroidering up a storm and she's made lots of great new hand embroidered tea towel collections for us: tea towels for beach homes, tea towels for campers, tea towels for wine lovers, and even a set of seven towels, one for each day of the week, all about PIE! Visit the new Linens & Textiles page of our catalog to see all her handiwork. Click here to shop!
Photo: Mark Fuller (center) and George Wickens (right) enjoy a pint at the Tiger Inn, Sussex, with a Canadian soldier on leave in the village. 1943 [Public domain] via Wikimedia Commons. Were there some drinking songs sung that night, perhaps to John Barleycorn? I don't know. But I hope so.