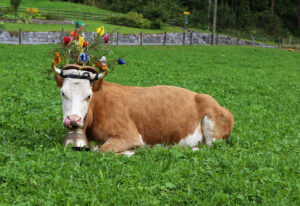 In the previous chapter of the Convivio Book of Days, the one about the Bartlemas Wayzgoose, I gave brief mention to the fact that the printers' Wayzgoose festivities that come out of St. Bartholomew's Day on the 24th of August are rooted in an acknowledgment of the waning days of summer giving way to fall. I know many of you were not keen on hearing that, and yet today we have a deeper acknowledgment of the turning of the wheel of the year, for it is now September, and once we get to these Ember Months, which is what I like to call these last few months of the year, since they all end with -ember, save for October (and even October ends in something much like -ember)… well, once we get to these Ember Months, there is no denying that summer's days are few indeed and autumn will soon be made welcome: welcome or welcome not.
In the Swiss Alps, the cows who wear such distinctive sounding bells around their necks have been up in the mountain meadows all summer long, but come the Feast of the Nativity of Mary on the 8th of this month, they will begin their journey down to the valleys in a centuries-old cattle drive known as the Almabtrieb. The feast day, also called Our Lady of the Grape Harvest, for vintners are now beginning to harvest grapes and make wine, is also known as Drive Down Day, and the driving down is done with great ceremony as the cows are decorated with flowers and greenery and beautifully woven textiles and yes, there is a symphony of bells as they walk and lumber their way alongside their humans down the roads, down to their winter quarters in the farms and villages of the valleys.
Seth and I were in the Swiss Alps in 2019. Not for Drive Down Day––we were passing through in July, in the Alpine grass-grazing season of high summer, on our way from Austria to Lake Como in Italy. Seth was at the wheel and at one point he made a right turn off the main road and me, I thought we were stopping for ice cream, but no, he kept driving into the woods and suddenly we were ascending up and up and there we were, driving along a switchback two-lane road up into the mountains. We were on the Splügenpass. (That's what it's called on the German speaking side of Switzerland, and as you descend down toward the Italian speaking side, it's called the Passo del Spluga.) I had no idea this would be happening, and instead of ice cream, I got to enjoy the most spectacular vistas. Every now and then, we had to pull over and stop and just take it all in. And what enchanted me most was the sound of bells. Each bell came from a single cow, grazing the green mountain meadow grass. A beautiful sound in complete harmony with the mountain we stood upon. I could listen to Swiss cows grazing all day long and never grow tired of it.
All this to say: Now it is September, and here is your Convivio Book of Days calendar for the month. It is, as usual, a printable PDF that you may print out and pin to your bulletin board or stick to your refrigerator or prop up on your desk, or just keep it handy digitally. It's a fine companion to this blog and will give you more holidays than I will have time to write about… but even if I don't write about them, you might find something about each of them if you do a search for each particular day on the blog page. Cover star this month: one of those lovely cows, dressed to the nines, at rest in a grassy field on Drive Down Day. Aside from Almabtrieb beginning on the Feast of the Nativity of Mary, it's also the month of several important holidays in the Jewish calendar, and of Johnny Appleseed's birthday (his 249th!), as well as Letterpress Appreciation Day on 9/18 and, of course, the autumnal equinox here in the Northern Hemisphere. CLICK HERE for the calendar.
COME SEE US!
Thanks to all who came to shop at the Wayzgoose last Sunday at the Jaffe Center for Book Arts. Now, pop-up market season is beginning in earnest! Here are a few of the markets we plan to attend in the coming months:
OKTOBERFEST MIAMI at the German American Social Club west of Miami. Two weekends: Friday October 13 through Sunday October 15 and then again the following weekend: Friday October 20 through Sunday October 22.
DIA DE LOS MUERTOS LAKE WORTH BEACH at our hometown community art center, Hatch 1121, just west of the tracks between Lucerne Avenue and Lake Avenue (just west of City Hall). Saturday October 28 from 3 to 9 PM.
FLORIDA DAY OF THE DEAD in Downtown Fort Lauderdale on Saturday November 4. The Convivio Bookworks tent is usually at the gathering point for the procession, which is Huzienga Plaza (or Bubier Park), 32 East Las Olas Boulevard. Details still to come, but we are usually there from about 3:00 until the procession leaves to cross the New River.
You may also expect to find us at the German American Social Club's Christmas Market in Miami on Saturday December 2, the Sankta Lucia Julmarknad in Boca Raton also on Saturday December 2, and the American German Club in suburban Lake Worth for their Krampusnacht celebration on Friday night, December 8, followed by their Christkindlmarkt on Saturday & Sunday, December 9 & 10…. and perhaps more than this.
Image: A cow dressed up for Almabtrieb, photographed by Evelyscher, 2014. [Creative Commons] via Wikimedia Commons.