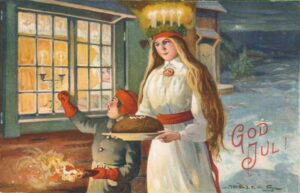 And now it is December, and here is your Convivio Book of Days Calendar for the month. It is a month of darkness here in the Northern Hemisphere and yet we dispel the darkness with celebrations of light: from the ever increasing light each Sunday in our ring of Advent candles, to the lights that illuminate the eight nights of Chanukah, to the candles on the wreath worn by Sankta Lucia in Sweden, and of course all the lights of Christmas. The lights are powerful beacons of hope in dark times. And this we welcome gladly.
And this First Sunday of December brings the First Sunday of Advent. Advent runs late this year: the Fourth Sunday of Advent happens to be the same day as Christmas Eve. This is a calendrical event that can put occasional procrastinators like me on edge. There have been years where the Fourth Sunday of Advent arrives and I've not even begun my Christmas shopping, but it's all right because Christmas is still the better part of a week away. Not so when the Fourth Sunday of Advent falls on the same day as Christmas Eve. If you, too, are in the Procrastination Boat, keep this in mind and make plans now to do things right this year.
But more than a signal to shop, Advent is a time of preparation, a time, as the French Advent song goes, to make our homes as fair as we are able. And not just our dwellings but our hearts, as well. Tonight, on the Advent wreath of four candles, we will light the first candle: one purple candle, representing Hope. On the Second Sunday of Advent, two purple candles are illuminated: the original one and a new one, representing Peace. On the Third Sunday of Advent we add to those a rose candle, symbolizing Joy (hence the name for the day, Gaudete Sunday). And on the Fourth Sunday of Advent, a third purple candle is illuminated, as well, this one representing Love. With all four candles illuminated the Advent wreath shines brightest, just as the longest, darkest nights of the year are upon us. It is powerful symbolism and a reminder of how it is up to each of us to be a light bearer in times of darkness, through hope, through joy, through peace and love.
Advent is the beginning of the church year. It has another meaning, too: Arrival. And even if your Christmas celebration is a purely secular one, Advent has its place: this hope and peace and joy and love help us set the stage for the abundance that is Christmas. And so we circle around to Advent––which used to begin on the 12th of November, the day after Martinmas and our annual time of remembering the dead––bringing us this time of preparation, for before we can properly understand the joy and celebration of Christmas, it is helpful to acknowledge our need to feel those things, lest Christmas come off as too cloying, too sweet. And so we acknowledge the darkness, and understand that the light that pierces the darkness comes from within. Hide not your light under a bushel. And so it is a time, as well, to make amends, and to right wrongs.
Image: A Christmas card from Sweden, designed by Adèle Söderberg. Color lithography, early 20th century (pre-1916) [Public domain] via Wikimedia Commons.
SHOP WITH US ONLINE!
Right now at our online shop you can save $10 on an $85 purchase on everything in the store with code SLOWCHRISTMAS at checkout, plus earn free domestic shipping, too.
COME SEE US!
Friday December 8, Lake Worth
KRAMPUSNACHT
On the Eve of St. Nicholas' Day, it is Krampus who accompanies the good saint to scare girls and boys into good behavior, and he gets his own celebration at the American German Club in suburban Lake Worth on Friday evening, December 8, from 7 to 11 PM. We'll be there with our biggest pop-up shop ever as this night ushers in the weekend's Christkindlmarkt. Tickets required and must be purchased in advance. 5111 Lantana Road, Lake Worth.
Saturday & Sunday, December 9 & 10, Lake Worth
CHRISTKINDLMARKT
It's our favorite event of the year! The annual Christkindlmarkt at the American German Club in suburban Lake Worth is just wonderful, and we'll be there with our biggest pop-up shop ever, filled with German Christmas artisan goods plus more from Sweden and Mexico, as well as specialty foods and who knows what else! Tickets are required and must be purchased in advance. Usually sells out! Saturday December 9 from 2 to 10 PM and Sunday December 10 from 12 to 8 PM. 5111 Lantana Road, Lake Worth.