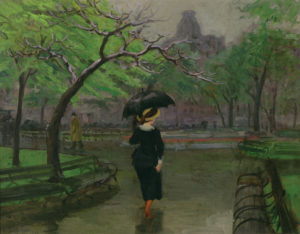 St. Swithin's Day, if thou dost rain, for forty days it will remain. So the story goes for today, the Fifteenth of July. It is St. Swithin's Day, a very British traditional weather marker concerning rain, based on the old story of St. Swithin, the weeping saint. St. Swithin was a 9th century Anglo-Saxon bishop of Winchester. The source of the weeping comes from after his earthly life, for it was the good bishop's wish to be buried in the churchyard and not in the chancel of the church, as was the custom for bishops. His wishes were followed when he died, but after his canonization, the monks decided the open churchyard was a rather disgraceful place for a saint to be buried, and so on the 15th of July in 971, they planned to move the relics of St. Swithin indoors to the choir, in a solemn procession. A great downpour began during the procession, though, and continued for forty days. The monks took this is a sign from St. Swithin himself, and so they let him be there in the churchyard, although they did eventually erect a chapel over his grave.
Of course, it could very well be sunny today. The weather lore for the day, in its entirety, is actually this: St. Swithin's Day if thou dost rain, For forty days it will remain; St. Swithin's Day if thou be fair, For forty days 'twill rain nae mair. As in: "for forty days, it will rain no more." Here in Lake Worth, where we are knee-deep in the summer rainy season, rain is a safe bet today and certainly for the next forty days and more. And while mango season has ended and we grow no apples here, there is, as well, another old belief that when it rains on St. Swithin's Day, the saint is blessing the apple crop. Here are a few lines from Poor Robin's Almanack, July 1697:
In this month is St Swithin's Day;
On which, if that it rain, they say
Full forty days after it will,
Or more or less, some rain distill.
This Swithin was a Saint, I trow,
And Winchester's Bishop also.
Who in his time did many a feat,
As Popish legends do repeat:
A woman having broke her eggs
By stumbling at another's legs,
For which she made a wofull cry,
St Swithin chanc'd for to come by,
Who made them all as sound, or more
Than ever that they were before.
But whether this were so or no
'Tis more than you or I do know:
Better it is to rise betime,
And to make hay while sun doth shine,
Than to believe in tales and lies
Which idle monks and friars devise.
Poor Robin was not a fan of the monks and friars (or the Catholics), to be sure, and obviously valued hard work more than a good story. One last mention of the legend: John Gay, in his poem "Trivia," gives a few lines to our weeping saint:
How, if on Swithin's Feast the welkin hours,
And every penthouse streams with hasty showers,
Twice twenty days shall clouds their fleeces drain,
And wash the pavements with incessant rain.
He certainly had a way with words, John Gay did. He was known to have labored incessantly, much like St. Swithin's rain, over his poems, searching for just the right words, searching for beauty. Which is why he is a great poet, and I am a reporter, giving you the news of the day, news that involves a saint who weeps. But that is my pleasure and my joy.
Back in 2014, when I first wrote about St. Swithin's Day in this Book of Days, reader Laurie Jo Wright left a beautiful comment on the post, which makes me think that she, too, labors over words searching for beauty. Laurie Jo was welcoming the rain, but was pleading with the good saint to let her get the hay in first: Just let me get the hay in first – we had a couple of very light sprinklings this morning so I am not quite sure what to make of that in terms of the 40 day forecast, but fingers crossed – lets hope for mild clear skies. At least until Friday when the baling is finished and hay off the fields. But these are the best weeks' sleep of the entire year: that sweet drying smell of freshly mown hay somnolent – if Angels wings had a scent this would be it!
She is right about the smell of freshly mown hay, and if I could find a way to use the word somnolent more than I do, I would. Now, lest you think this all is hogwash, there actually is some truth, it is said, to the weather lore for St. Swithin's Day, for the jet stream over Britain tends to follow a regular pattern at this time of year, dictating the weather patterns for the next five to six weeks. Should the jet stream lie north of Britain, the weather will typically be clear and mild. Should the jet stream lie across or south of Britain, stormy weather may be expected as rain moves in from the Atlantic. And so science seems to confirm the weather lore. Or else St. Swithin really does love a rainy day.
SUMMER SALE
A rainy day is a perfect day to shop our Summer High Five Sale, in which you can use the discount code HIGH5 at checkout for $5 off your order of $35 or more. Take it to $50 and you'll earn free domestic shipping, too.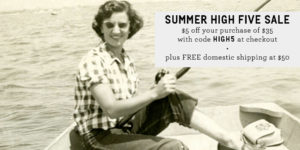 That's my mom in the Summer Sale photo (click the photo to make it larger). It's her name day tomorrow: the Feast of Our Lady of Mount Carmel; her name is Carmela, but most often she goes by Millie, which I think is a great name. Thoroughly modern and all that. And at 94, Mom has begun a new cottage industry at home this past spring: each day she hand embroiders a flour sack towel. Millie's Tea Towels (that seems to be the company name) are now on our website, available for purchase. They're adorable. I'm so proud of Mom's efforts. They are part of a brand new part of our online catalog we're calling "Linens & Textiles." Millie's hand embroidered tea towels focus on three different themes: there are a whole bunch that deal with coffee ("Java Jive") and more that deal with baked goods ("Baking Day"), and then another whole bunch that offer bits of wisdom of a culinary nature ("Kitchen Wisdom"). And she's been working on more. Check back after this weekend and you'll find towels with beach and tropical themes, another collection that's perfect for your summer lake home and camping trips, and a whole lot more related to wine (you spoke, she listened).
I think you'll be as impressed as I am with Mom's handiwork. Her tea towels make wonderful gifts for yourself or someone else and Millie's getting every penny we sell them for. I figure I owe her at least that for all the effort she put into raising me. You'll find other lovely hand embroidered textiles there, too, from the extended family in Chiapas who make the protective face masks we've been selling since last summer. Prices on those masks, by the way, are reduced to $10. We got our last shipment of masks from them a few weeks ago, and now, I'm happy to report, they are focusing again on their traditional wares. (Hurrah for science and vaccinations!)
Everything in the catalog is part of the Summer Sale, so go, have some fun there: Click here to shop.
Image: "Spring Rain" by John Sloan. Oil on canvas, 1912 [Public domain] via Wikimedia Commons.