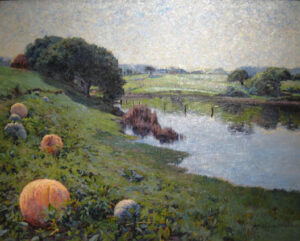 Six days into the month, and here is your Convivio Book of Days Calendar for October. I'd apologize for my belatedness, but you're probably tired of my apologies. Rather, just enjoy the calendar. Cover star this month: a 1907 oil painting by Evelyn McCormick called Carmel Valley Pumpkins.
And just like that here in Lake Worth, where last week summer was still in charge, now the shadows are lengthening and the days feel lighter, breezier. The air may not be crisp, but it is drier, and that counts for something.
DIA de LOS MUERTOS LAKE WORTH BEACH
So it's official: We'll be making our first public market appearance this month since February, 2020. Find us on Saturday October 30 at Dia de Los Muertos Lake Worth Beach, our town's annual celebration for Day of the Dead. Same place as usual: Hatch 1121 just west of the railroad tracks between Lake Avenue and Lucerne Avenue. Masks are required (and I don't think they're talking about calavera masks in this case). This joyous celebration runs from 3 to 9 PM, and although this year it's being held the day before Hallowe'en, keep in mind this is not exactly a Hallowe'en thing. None of the silly trappings that have befallen our contemporary Hallowe'en: no blood, no gore, no sexy nurses, no horror movies. Dia de Los Muertos, rather, is a celebration honoring those who have come and gone before us and a joyful acceptance of what lies ahead for us all. It is the time each year when I am most proud to be part of this Lake Worth community. Click here for full details. There will be ofrendas, music and dance, and we'll be there with plenty of our authentic Artesanías Mexicanas!
We're also teaching our Calavera Prints! workshop this Saturday from 2 to 5 PM at Hatch 1121 as part of the celebration. You'll learn a simple process to make José Posada inspired linoleum cut prints… a process you can continue at home without a press. We will, nonetheless, have our Nolan Tabletop Press at Hatch this Saturday, along with some historic wood type, to give you an authentic letterpress experience. You don't need to be "artsy" to do this, and you don't even need to know how to draw. I've got some great tricks up my sleeve, trust me. The workshop cost is $65 and you do have to register ahead of time: click here for full details and to register. The class is limited to 8 properly masked participants.
CHOOSE YOUR SALE!
One last thing for today: at our online Convivio Book of Days Catalog, take your choice this week of two sales we are running. First up: Mom is now 95 years old. Her birthday was on Sunday, and to celebrate, we're having a sale on her Millie's Tea Towels line of hand embroidered flour sack tea towels. Save $9.50 when you buy any four of Millie's Tea Towels (or one 7-day set), and get free domestic shipping, too, when you use the discount code HAPPYBIRTHDAY at checkout. Find Millie's Tea Towels at the new Linens & Textiles link on our catalog page. Shop here!
And if you need to stock up on any of the other wonderful things we sell, you'll save $10 on your purchase of $75 on everything in the shop with discount code STREETFAIR, plus get free domestic shipping. Everything means everything! Artesanías Mexicanas for Dia de Los Muertos, sparkly new Advent calendars from Germany, German and Swedish woodcrafts for Christmas, and lots more. Shop here!
Image: Carmel Valley Pumpkins by Evelyn McCormick. Oil on canvas, 1907 [Creative Commons, via Wikimedia Commons].