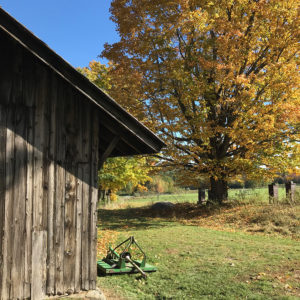 November has thrown us for a loop this year, but here, finally, is your Convivio Book of Days calendar for the month. It's autumn, and it has just today turned a bit cooler here in Lake Worth, and that may explain how we have finally gotten the calendar published for you. Things suddenly feel in sync. We are in the midst of the days when we remember those who have passed before us, making it a very beautiful time of year. Cover stars for the calendar: Carriage House and Maple Tree at the Sabbathday Lake Shaker Community in Maine. The Carriage House predates the Community itself, which was established in 1783. It's a graceful old building that stands next to the grand barn, the barn that to stand in it makes you feel like you are in a cathedral of sorts.
If all goes as planned, I'll be writing again to you tomorrow to remind you about Martinmas, also known as Hollantide. It's a time important to winemakers, and it concludes our annual sojourn with the dead, and we turn our sights toward winter. Speaking of: before things get way too Christmasy out there, the Advent season will begin on the First of December. We've got traditional Advent calendars from Germany and handmade daily Advent candles from England to help you mark the season and keep things at your own pace. Now happens to be a great time to order. Free domestic shipping when you spend $50 at our catalog; if you don't make it to $50, it's a flat rate of $8.50, which is also not at all bad. Or come see us at these November events; there are more coming in December––I've included the first one here:
SANKTA LUCIA CELEBRATION
Saturday November 23 from 11 AM to 3 PM
at First United Methodist Church
625 NE Mizner Boulevard in Boca Raton
A traditional Swedish Christmas with dancing round the tree and Sankta Lucia in a crown of candlelit evergreen. We'll be there with our traditional artisan made Christmas decorations from Germany and Mexico, plus our new Christmas collection from Sweden, as well as Shaker herbs & teas and my mom's famous handmade candy wreaths, as well as German advent calendars and candles.
HARVEST MAKERS MARKETPLACE
Sunday November 24 from 10 AM to 4 PM
at Florida Atlantic University
777 Glades Road in Boca Raton
Follow the blue & white MAKERS MARKETPLACE signs on FAU campus roads to Historic Building T6. Free admission, free parking, live music with Rio Peterson and the Lubben Brothers, and lots of great local makers. Our boutique will include all our Christmas artisan items from Germany, Mexico, and Sweden, plus Shaker herbs & teas, German advent calendars and candles, and my mom's famous handmade candy wreaths.
CHRISTKINDLMARKT
Saturday & Sunday December 7 & 8 (2 to 9 PM on Saturday; 1 to 8 PM on Sunday)
at the American German Club
5111 Lantana Road in Lake Worth
Convivio Bookworks will be part of this old time German Christmas market in suburban Lake Worth. At our booth you'll find traditional handmade German Christmas items, and we'll throw in some other handmade items from our Swedish and Mexican collections, too, as well as Shaker herbs & teas, some letterpress goods, and my mom's famous handmade candy wreaths.
More markets to come beyond this, too!