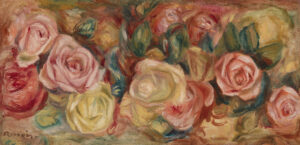 At the close of last Friday's edition of Real Mail Fridays, the weekly online Zoom social I host for the Jaffe Center for Book Arts each Friday from 2 to 5 Eastern, artist Maria Surducan, who was tuning in from Romania, asked if we were all off on Monday for May Day. I had to explain that no, May Day was not a big deal here in the States, and not even acknowledged as a holiday, really.
But certainly some of you celebrated, and I hope you had a lovely Walpurgis Night and a fine May Day, too. And here, now, just a bit belated, is your Convivio Book of Days Calendar for May. Cover star: Roses, painted by Renoir. It's a gorgeous painting and that alone is worth clicking for. And I will leave it at that. It's late; I'm going to have a cup of English Breakfast and go to bed. Maybe I'll dream of roses, and maybe you will, too.
SAVE ONLINE! At our online catalog, save $10 off your purchase of $85 or more, plus get free domestic shipping, too, when you use discount code BUNNY at checkout. It's our Zippin' Into Springtime Sale, good on everything in the shop, now until we decide it's done. CLICK HERE to shop! And don't forget to use discount code BUNNY at checkout if your order is $85 or more.
Image: "Roses" by Pierre-Auguste Renoir. Oil on canvas, circa 1912, Barnes Foundation. [Public domain] via Wikimedia Commons.