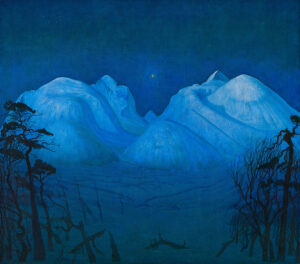 A bit belated, here is your printable Convivio Book of Days Calendar for the month of January. Cover star: Winter Night in the Mountains, a 1914 oil painting by artist Harald Sohlberg. He was Norwegian; he knew a thing or two about winter. Me, I'm from Florida and all I know is it looks awfully wintry in his painting. We had a bit of cold weather on Christmas Day and the first few days of Christmas; enough to make the iguanas sleepy but it has warmed up again since then and the iguanas are back to eating all the plants in the garden, save for the weeds, of course. I was hoping, to be honest, that the cold would help thin the herd a bit, but this does not seem to be the case. What I am certain of is folks in Norway do not have this problem.
We are approaching the close of the Yuletide Season. It's the Tenth Day of Christmas and our focus is on preparations for Twelfth Night and Epiphany. I plan to make our Three Kings Cakes on Friday (you'll find the recipe here) but later today, my work is cut out for me as I record and edit my cousins performing a story for Epiphany Eve. It's the story of La Befana, the kindly old witch who searches for the Christ Child each Epiphany and who delivers small presents to the children in Italy. The recording will be part of the Stay Awake Bedtime Stories series that I host and I've no idea yet how this will all turn out, but we shall see what we shall see and if you'd like to watch the finished video, please visit the Stay Awake page at the website of the Jaffe Center for Book Arts by Thursday evening and see what you think. My cousin Marietta will be reading, my cousin Cammie will be sweeping, and my cousins Larry and Al (as well as Seth) will be offering their gifts of frankincense, gold, and myrrh as the Three Kings. How bad can it be?
At our online catalog, we are running a sale on select artisan goods for Christmas from Germany and from Mexico. The sale runs through Epiphany on the Sixth Day of January. You'll find savings on handmade German nutcrackers and pyramids and nativity sets, and handmade nativities from Mexico. Click here to shop (and save: our extra large nutcrackers, for instance, are currently reduced by $295; after Friday, they go back to regular price).
Image: "Winter Night in the Mountains" by Harald Sohlberg. Oil on canvas, 1914 [Public Domain via Wikimedia Commons].