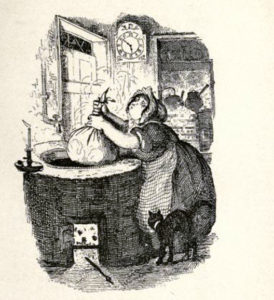 This Sunday brings a day known as Stir-Up Sunday: it's the final Sunday of the year in Ordinary Time as we shift into the Advent season with the First Sunday of Advent on the 28th of November. It is, in my view, a good time to slow down and refocus on the approach to Christmas. I know people who have had full on Christmas decorations up for two weeks already, and while folks can do what they want, of course, well… that's not happening in this house. We only put the Indian corn on the front door after Halloween ended, and there are still pumpkins on the porch. We'll be taking each day this season as it comes (as we always do): Thanksgiving, then Advent, and a gradual easing into Christmas––so we're not tired of it before the Christmas season has had its proper Twelve Days.
If you, too, are on board with this idea, then welcome! I call it the Slow Christmas Movement. It's not for everyone, I know, but it's the way we like to do things, and it heightens the Christmas experience by building on anticipation, which is such a wonderful thing.
Speaking of anticipation: it is a good time right now to order Advent candles and calendars from our Convivio Book of Days Catalog! A simple thing like an Advent candle that you light each night or an Advent calendar that you open a door on each day can really help bring some perspective to things, especially if you feel rushed. Ours are the traditional kinds, made in Europe, where these traditions began, and it's all part of this Slow Christmas Movement. We always offer free domestic shipping when you spend $60, and this year, we are once again offering our big Christmas Stock-Up Sale: spend $75 on anything and everything in our catalog, and save $10 plus get free domestic shipping: a total savings of $19.50. Just use discount code STREETFAIR at checkout. Click here to shop!
Here's another way to slow things down: this Sunday, prepare a traditional English fruitcake or steamed pudding. Not that you'll be rushing the season by eating it this Sunday. No, the best of these desserts need time to age and time, if you are making them boozy, to soak up the booze. And this is what Stir-Up Sunday is all about. It begins with a prayer, and here it is:
Stir up, we beseech thee, o Lord, the wills of thy faithful people;
that they, plenteously bringing forth the fruit of good works,
may of thee be plenteously rewarded; through Jesus Christ our Lord. Amen.
Or something to that effect. The language is often updated nowadays, replacing the thees and the plenteouslies with more contemporary words, but I think you get the general idea. It is the collect––the prayer––after communion in the Anglican Church this last Sunday in ordinary time before we shift to those Four Sundays of Advent, the time when we make our houses as fair as we are able. There is the prayer, and there is also the fact that traditional steamed puddings and fruitcakes require a good four weeks to age and become sufficiently brandy-soaked to reach their best depth of flavor. Ask folks in the congregation and they may very well have their own version of the collect, which goes more along these lines:
Stir up, we beseech thee, the pudding in the pot,
Stir up, we beseech thee, and keep it all hot.
This is not something we are particularly aware of in my family, Catholics as we are, and Italians, no less. But my sister does make a good fruitcake most Christmases, brandy-soaked like the best of them, and she does make it early, long before Christmas's arrival. Same goes for her delicious Pfeffernüsse, the spicy German cookie that requires weeks to develop its flavors. They say a proper British Christmas pudding should contain thirteen ingredients––one for Jesus and each of his disciples––no more and no less. And when it is prepared on Stir-Up Sunday, each member of the family should give the pudding a stir, making a wish as they do. The stirring must be from east to west: the same direction the Magi traveled to visit the newborn child.
By the way, here is Nigella Lawson's recipe for her Ultimate Christmas Pudding. I think we may give this a try in our home this year. You'll find two versions presented there: one in metric measures and one in imperial measures. The two versions have more differences than just ways of measuring ingredients: The metric includes the British name for raisins (the lovely word sultanas), but it also lists suet as an ingredient, where in the American version, the suet is replaced by vegetable shortening. I'll be making this using the shortening.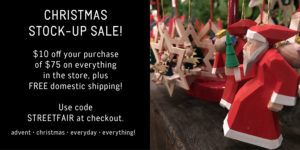 COME SEE US!
If you're far away, don't forget our Christmas Stock-Up Sale. But we'll be popping up at a few nearby pop-up markets this season, and if you're local, we'd love to see you. We'll be outdoors at all these markets.
HOLIDAY MARKET at MATTHEWS BREWING CO.
Sunday November 28 from 2 to 8 PM at 130 South H Street in Lake Worth Beach. We'll have a table in the outdoor courtyard, focused on Advent candles, Advent calendars, and a selection of Christmas artisan goods from Germany, Sweden, and Mexico.
HOLIDAY NIGHT MARKET & FESTIVAL at SOCIAL HOUSE
Saturday December 4 starting at 6 PM at 512 Lucerne Avenue in Downtown Lake Worth Beach. Inspired by traditional European Christmas markets. We'll have a tent in the outdoor courtyard with a large selection of our Advent and Christmas artisan goods from Germany, Sweden, and Mexico, Shaker culinary herbs and herbal teas, and some of our textiles from Kei & Molly Designs and Millie's Tea Towels.
CHRISTKINDLMARKT at the AMERICAN GERMAN CLUB
Saturday December 11 from 2 to 10 PM and Sunday December 12 from Noon to 8 PM at 5111 Lantana Road in suburban Lake Worth. A traditional German Christmas market. Tickets required. Our largest pop-up shop ever will include Advent candles and calendars, Christmas artisan goods from Germany, Sweden, and Mexico, Shaker culinary herbs and herbal teas and soaps, Millie's Tea Towels, our new line of tea towels and reusable bags from Kei & Molly Designs, market bags from Mexico, and more.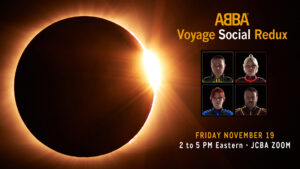 One last thing before I sign off: Won't you join me, virtually, at the Jaffe Center for Book Arts' next virtual Real Mail Fridays social? It's today! Friday November 19 from 2 to 5 Eastern. We're calling this one the ABBA Voyage Social Redux, because yes, we did it last week and it was SUCH a blast, we're doing it one more time. Three hours of ABBA music––classics and new music from ABBA's just released new album: their first in nearly 40 years. Click here for the Zoom link to join in the social. Come and go as you please. Supremely heartwarming. And you know I'd love to see you.
Image at top: "The Christmas Pudding" by Robert Seymour. Etching for The Book of Christmas by Thomas K. Hervey, 1836.