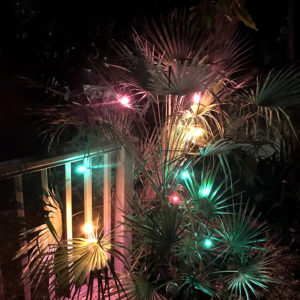 At ten minutes 'til midnight tonight, the 19th of March, local Lake Worth time (which is currently Eastern Daylight Time), it's the official arrival of spring. Tonight marks the midpoint between longest night (Midwinter in December) and longest day (Midsummer in June). It's the opposite in the Southern Hemisphere, where this moment delivers the start of autumn. But no matter where you are on this earth, what is certain is equilibrium: day and night are in balance, all across the globe. And it's good to have something that is certain these days, no? A little certainty, perhaps, is what we're all seeking.
It's been St. Joseph's Day today, too: Father's Day in Italy, where San Giuseppe is held in very high esteem. Both of my grandmothers were devotees: Grandma Cutrone would build an altar in her home each March in honor of San Giuseppe, and Grandma DeLuca, she would light candles in front of the statue of San Giuseppe in our church. He'd stand there, holding his lilies and carpenter's square, watching as she'd light the candle after Mass, whispering prayers to him in Italian into the incensed air. His day is typically one to enjoy zeppole, the sweet Italian lenten delicacy available only this time of year, but alas, zeppole are not in the cards for Seth and me this year. My mom and sister, sheltering through this virus outbreak at their home, had a couple of zeppole delivered to their house yesterday, but Seth and I are too far from Italian bakeries to even be considered for delivery. Some Scandinavian semlor or pulla? No problem. The Finnish and Swedish bakeries are many in our area. But the Italians seem to gravitate to the northern and southern parts of Palm Beach County, a little too far from us in this unprecedented time of delivery-only options.
Seth, he calls the day San Giuzeppole Day. He's pretty clever that way. We're both home these days, working remotely. The cat gives us looks sometimes that seem to say, "You're still here?" It's been only five days so far of sheltering at home. We've consumed three pies and have reduced our physical activity to an occasional evening walk to the lagoon, which is a sharp reduction from the usual nightly fitness and boxing camps we attend. But they are closed and we wouldn't go right now even if they were open. And so here I sit, typing this, wearing my I Survived the Ultima Summer Fitness Challenge T-shirt, the irony of which does not escape me. For now, though, it seems I need to eat pie and to avoid perspiration. It's a reaction to too much uncertainty. Tomorrow is another day: one that will be more balanced. That much is certain. Maybe then I'll follow suit.
If you're feeling a bit too uncertain, alone, nervous about things––anything that's making you anxious about these strange times––feel free to write me. Perhaps we can bring all our uncertainties together and talk about them in the forum of the Book of Days Blog. I'll keep your identity confidential, promise. And if no one writes, I'll know you're all ok and we'll leave it at that. You can post below in the comments section, or write me directly: mail@conviviobookworks.com. We're all in this together.
Image: I hear there is a movement underfoot to illuminate the night with Christmas lights again, to brighten everyone's spirits in these dark times. Maybe it's auspicious that Seth and I never took the lights off our European fan palms at the front door this year. We liked them so much, they still go on each sunset. To be honest, it does lift my spirits to see them each night.