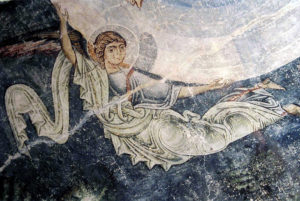 German weather lore suggests that the middle of May will bring each year a blast of cold weather, which very often is winter's last hurrah until its return on the other side of the year. We've come to believe in Cold Sophie (or some more subtle version of her) even here in Lake Worth, which early settlers dubbed "The Town Where Summer Spends Winter." We typically don't get many cold days each winter––mostly they are mild and pleasant––but by the start of May we know for sure that summer is a'knocking, and yet it's surprising how often mid May can bring just one more dose of mild temperatures. Once that fleeting day or two is gone, though, that's it: summer is here to stay. Very often, those blissful days come right about now.
The Germans call this time Kalte Sophie: Cold Sophie. She is St. Sophia, whose feast day is celebrated on the 15th of May each year. But Sophie comes with an entourage, who, collectively, are known as the Ice Saints, or die Eisheiligen. They are St. Mamertus, whose feast day was on the 11th, St. Pancras on the 12th, St. Servatius on the 13th, and on the 14th, we remember St. Boniface, before we finally welcome in Kalte Sophie. They are known as the Ice Saints for their feast days often are accompanied by the final frost of the season, or at least a sharp drop in temperature… and if you were in a rush to get your garden planted before the Ice Saints have made their appearance, you may need to start over again once they've passed.
In Central Europe, particularly Slovenia, you might hear St. Sophie called Poscana Zofka… Pissing Sophie, for there, she is associated with rain. Which is probably more accurate for us here in Lake Worth, too. It is the time of year when we typically look to the skies and wonder if it will ever rain again, as we wait for our summer rainy season to kick in and quench the parched earth… making our strange land green again.
Image: Cold Sophie herself? A fresco from St. Sophia Church in Ohrid, Macedonia. Circa 11th century. [Public domain] via Wikimedia Commons.