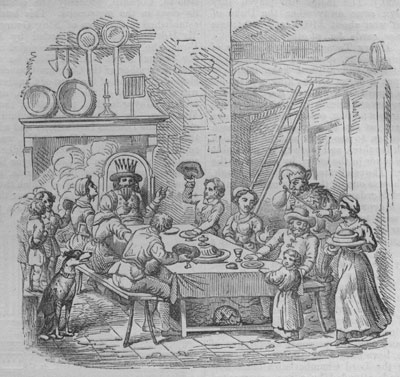 Convivio is an Italian word that translates to feast or banquet. It shares a common Latin root (convivialis) with our jovial English word conviviality, which has to do with festive eating, drinking, and good company. Like Charles Dickens' Old Fezziwig closing shop early to prepare the place for Christmas Eve festivities, or Washington Irving's Ichabod Crane setting off for the Van Tassel's Merrymaking and Quilting Frolic, the proprietors of Convivio Bookworks are known to love a good feast.
John Cutrone and Seth Thompson are those same proprietors. We've been printing from antique letterpress equipment and making books by hand since 1995, when we began making books under the press name Red Wagon Press. In 2001 we updated the name to Red Wagon Bookworks, and in 2003 made the leap to the press name you see here. We feel it suits us well, and hope you agree. Our small studio is located in delightfully quirky Lake Worth, Florida, a place we love. By purchasing from Convivio Bookworks, know that you are supporting the artisans directly, earning you the title Patron of the Book Arts and the gratitude of all involved: writer, illustrator, printer, papermaker, bookbinder.
Inspired by our Convivio Book of Days blog, our catalog also includes artisan goods and some of our favorite traditional items for seasonal celebrations. Our business model when it comes to these things is simple: We gather these items from the most authentic sources, from the places where the traditions first began and where they've been made, since time immemorial, by local artisans. This is something we feel quite strongly about. To that end, all of the items we sell for Dia de los Muertos, for instance, come from artisans in villages throughout Mexico (and especially from San Miguel de Allende). Our Advent calendars come from Germany, where the first Advent calendars were printed, and our Advent candles are handmade in England. Our traditional German woodcrafts for Christmas and Easter come from Germany's Ergebirge region (the Ore Mountains), where artisans have been making these things for centuries. And our Shaker culinary herbs and herbal teas come from the Sabbathday Lake Shaker Community, the sole remaining active Shaker Community in the world. Our roots there run deep: Seth grew up in the town next to the Community and worked there as a gardener and a tour guide in years past, and John did two summer internships with Brother Arnold Hadd in the Shaker print shop when he was a grad student studying the book arts. We think of Brother Arnold and Sister June and Brother Andrew and all who work with them at the Shaker Community as an extension of our family.
All of this is part of what we call the ceremony of a day, and part of our philosophy of crafting good living.