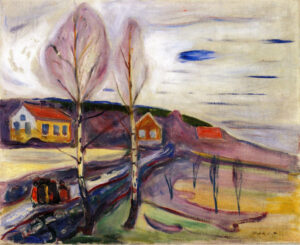 It's St. David's Day, and the Welsh will be donning leeks and daffodils on their hats and lapels today, and there will be Welsh Cakes served with butter and jam or with leeks and cheese. I am more the butter and jam sort. St. David, sacred to Wales, brings in March, a month of transition as winter officially gives way to spring. It is a month of many saints' feast days that are sacred to particular countries: after St. David and the Welsh, we can look forward on the 5th to St. Piran's Day for the Cornish, St. Patrick's Day on the 17th for the Irish, St. Joseph's Day on the 19th for the Italians, and then there's St. Urho's Day on the 16th for the Finns. St. Urho, who drove the grasshoppers from Finland: known only in the lands where Finns have settled. It's a good story if there ever was one.
It's an interesting month, March is, and here is your Convivio Book of Days Calendar for it. A printable PDF, as usual, and a fine companion to this blog. This month's cover star is "Early Spring in Åsgårdstrand," painted by Edvard Munch in 1905. You might admire the painting while enjoying a nice Welsh Cake today. Here's our recipe:
W E L S H   C A K E S
It's not uncommon to find recipes for Welsh Cakes that call for regular granulated sugar, butter, and nutmeg, but the traditional recipe will add lard to the mix, use caster sugar in place of the regular sugar, and will be flavored with the more mysterious flavor of mace. If you want the best Welsh Cakes, stick to the traditional version. If you can't find caster sugar, make your own: pulse regular granulated sugar in a blender until very fine. Do not use powdered confectioners' sugar, which has added corn starch.
3 cups all purpose flour
½ cup caster sugar
1 ½ teaspoons baking powder
1 teaspoon ground mace
½ teaspoon cinnamon
½ teaspoon salt
6 tablespoons lard
6 tablespoons butter
¾ cup dried currants
2 eggs, beaten lightly
3 to 4 tablespoons milk
granulated sugar
Whisk together the flour, caster sugar, baking powder, mace, cinnamon, and salt in a mixing bowl, then work in the butter and lard with your fingers until the mixture has the texture of course crumbs. It's ok if some larger chunks of butter remain. Mix in the currants. Add the beaten egg, working it into the mixture, adding just enough milk to form a soft dough that is not too sticky. Wrap; chill in the refrigerator for 30 minutes or until you are ready to make the cakes.
Turn the dough out onto a floured board and roll to a thickness of about ¼". Using a biscuit cutter (scalloped, if you have one), cut into rounds. Gather up any remnants to roll out again and cut more cakes.
Heat a lightly buttered skillet (cast iron works great) over low to medium heat, cooking the cakes until each side is lightly browned (about 3 to 4 minutes… if they're cooking quicker than that, lower the heat). Let the cakes cool for a minute or two, then set each in a bowl of granulated sugar, allowing sugar to coat both sides and the edges. Best served warm, split, with butter and jam, or, for a more savory treat, with cheese and leeks, at a table set with a small vase of daffodils.
COME SEE US!
We've got two springtime pop-up shops in the works. At each, you'll find our full selection of handcrafted artisan goods for Easter and Springtime from Germany, Sweden, and Ukraine, plus a few other surprises, too.
Find us first at the DELRAY BEACH ST. PATRICK'S DAY PARADE & FESTIVAL in Downtown Delray Beach on Saturday March 11. Our Convivio Bookworks tent will be at Old School Square, 51 North Swinton Avenue, from 1 to 7 PM. Next, on Saturday April 1, we'll be at JOHAN'S JOE in Downtown West Palm Beach from 7 AM to 3 PM for a little Springtime Market that Johan's Joe and Convivio Bookworks are hosting together. We had a Christmas Market last December and it was so much fun and we met so many wonderful people, we've decided to collaborate again for Easter.
Meanwhile, at our online catalog, save $10 off your purchase of $85 or more, plus get free domestic shipping, too, when you use discount code BUNNY at checkout. It's our Zippin' Into Springtime Sale, good on everything in the shop, now through Easter (and probably a bit beyond, too). What's new? Some great new handcrafted artisan goods for Easter from Germany, plus a new supply of real pysanky eggs and wooden crucifixes from our friend Kyrylo Cherniak in Ukraine. It took almost a whole year for him to gather these things from the artisans he works with throughout Ukraine, and it is our deep privilege and honor to bring them to you. Kyrylo, so far, is safe and as well as can be. We have some new paper mache egg containers and splint wood baskets on their way from Germany, too, which should be arriving any day. We're about to load about two or three dozen new hand embroidered tea towels made by my mom onto the website, too. Millie's Tea Towels: you love them, and Mom loves making them for you! CLICK HERE to shop! And don't forget to use discount code BUNNY at checkout if your order is $85 or more.
Dydd Gŵyl Dewi Hapus! Happy St. David's Day!
Image: "Early Spring in Åsgårdstrand" by Edvard Munch. Oil on canvas, 1905. [Public domain] via Wikimedia Commons.