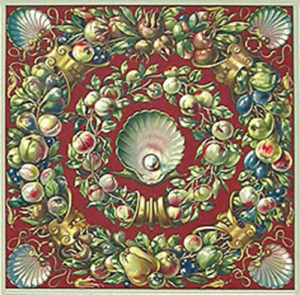 If you like oysters, I've got a holiday for you: The 25th of July brings St. James's Day, and oysters are the traditional meal. Me, I am not an oyster fan, and so I will pass on the oysters tonight, even though legend has it that those who eat oysters for St. James's Day will never want for money for the rest of the year. I'll just take my chances, thank you. In Galicia in Spain, where St. James is the patron saint, the evening meal might include scallops, too.
In England, St. James's Day was in the past a day when apples were blessed by the parish priest, and this interests me more, for I love apples. I am my father's son, after all, and he, too, was an avid apple eater. The apples on the trees, I imagine, are still quite green, even now as we inch our way toward autumn. And this is happening, of course, even as we melt daily through summer. Autumn is on the horizon.
Back when we were kids, it was always right about now, as July began to give way to August, that an annual warm weather melancholy would set in. School for us here in ended in late May, and there was still a bit of shock to May and the sudden end of school. It didn't feel much more exciting than a long weekend. June was different: it was all ours. We were free and the days were long. There was the beach and then after there were TV shows and riding bikes with the other neighborhood kids. There were books, too––paperbacks that you could slip into your back pocket; one summer I read Dandelion Wine by Ray Bradbury. Most of all, there was no homework. When I was really young, when we lived in New York, we could stay up late and we could sleep late, although we never did, because Mom had us at the beach before 8, before the gates opened for the day and before the admission charge went into effect. I watched for dune buggies on the drive to the beach and then I'd eat my breakfast there once we arrived. Usually it was Cheerios in milk in a wide mouth Thermos. And coffee, even for us kids. The coffee, too, would come out of a Thermos, and there is nothing quite like coffee on the beach, early in the morning, with the scent of Bain de Soleil lingering in the salty air.
But it was right about this time, the end of July, that the realization crept in that summer was quickly fading. I know Northern schools start up after Labor Day, but here in South Florida, Labor Day was a school holiday. We'd be back at school by late August. August, we knew, was not ours. It was the month, already, of school supplies and homework and early rising of a not-so-good sort. Early July was as fine as June, but late July was the harbinger of August. By St. James's Day, we understood that summer was almost done. Our ancestors had a grasp of this, too, for we are coming up soon on another of their major festivals: Lammas, which begins with the evening of July 31, is the first of the harvest festivals. It celebrates bread and John Barleycorn… and it brings with it the subtle transition toward autumn. For with Lammas, we'll find ourselves midway between the Summer Solstice and the Autumnal Equinox. The wheel of the year shifts again.
But Lammas is days away, and today, it is the Feast of St. James. The oysters for St. James's Day and the never wanting for money remind me of the story of a couple, right here in Downtown Lake Worth, who were sharing a platter of steamed clams at Dave's Last Resort & Raw Bar. It was just about Christmas time, some ten years ago, and in one of the clams on their platter, they found a purple pearl. Rare and beautiful… and worth thousands of dollars. Some folks don't believe half my Lake Worth stories (and I'm not sure I do, either), but this one's documented as fact. I don't know what became of them, or their purple pearl, but perhaps pearls, purple or not, were a more common find in clams and oysters in earlier days, making the legend of never wanting for money after eating your St. James's Day oysters perhaps not so legendary at all. Perhaps it is the stuff of truth and just a matter of fact.
Image: Detail from "Pearl Oyster Fruits" by Anton Seder. Lithograph, 1890 [Public domain] via Wikimedia Commons.