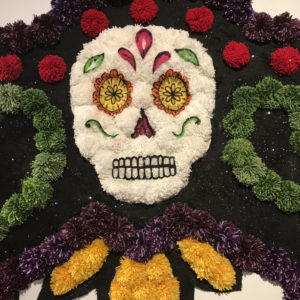 We're approaching Hallowe'en and soon after, Dia de Muertos, Day of the Dead. It is the time of year when we traditionally remember those who have gone before. Normally, you'll find us at two very big events in South Florida around now, as we set up shop at the street fairs for Dia de Muertos Lake Worth and Florida Day of the Dead in Fort Lauderdale. Both celebrations are such great fun and such beautiful events that bring our community together. This year, due to social distancing, these gatherings won't be happening… so instead of finding our artisan goods at a street fair, we thought we'd offer you a sale, instead. It's an opportunity for you to stock up on all you might need for Dia de Muertos and Advent and Christmas, too, with our Autumn Sale. Here it is (click on the picture to make it bigger!):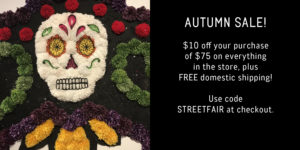 Save $10 off your purchase when you spend $75 or more at our website, plus free domestic shipping. That's a substantial savings of $18.50. Use the discount code STREETFAIR when you check out. 
Click here for our catalog pages, which are filled with traditional artisan goods for Dia de Muertos from San Miguel de Allende, Quintana Roo, Jalisco, and other parts of Mexico. You'll also find traditional sparkly Advent calendars from Germany to count down the dark nights toward Christmas the month of December (as well as Advent candles from England), and an abundance of artisan goods for Yuletide, too: all made by hand in Germany, Sweden, Italy, and Mexico. Plus lots of great stocking stuffers: fir balsam pillows from the Sabbathday Lake Shaker Community in Maine, plus their full line of herbal teas and culinary herbs. Our new line of beautiful embroidered protective face masks, made by an extended family of artisans in Chiapas, Mexico, also make great stocking stuffers.
So, while we won't see you this year at Dia de Muertos Lake Worth or Florida Day of the Dead, or at the Sankta Lucia Festival or at the Christkindlmarkt, either… a big sale like this is perhaps the next best thing. Please support small businesses and artisans: your transactional support at uncertain times means the world to real people who make real things. We all appreciate it, honest. Don't forget to use the discount code: STREETFAIR.