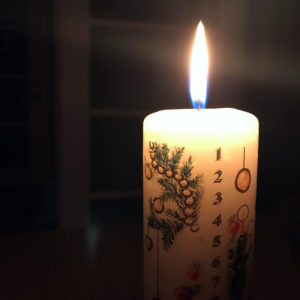 This weekend, we'll clean the windows and put an electric candle on the sill inside each to illuminate the night. It's a winter tradition that Seth brings from his family, and one that has come to signify the start of Advent in this house. Pure white light piercing the darkness; one of the simple pleasures I love about this time of year as we begin our time of expectation for Christmas.
And while we will begin lighting our daily Advent candle and opening each night a window on our Advent calendar on the First of December, the actual Advent season arrives a bit earlier this year: Sunday brings the First Sunday of Advent. The Advent ring is center for each of the four Sundays to come: a ring of four candles in a wreath of pine. In the Catholic tradition, three of the candles are purple and one is rose. Purple, the color of penitence and rose the color of joy. It is a time of expectation and preparation and of making our house as fair as we are able, as a French Advent carol goes… the "house" being not just the literal house but the figurative one, as well: the heart, the soul––the need to feel joy before we start singing all those songs of joy once Christmas actually arrives. And so on this First Sunday of Advent we will light one purple candle. The following Sunday, two purple candles. The Third Sunday, which is called Gaudete Sunday, we light the two purple candles and we add the rose candle, too, as that third week focuses on the joy of anticipation. And finally, on the last Sunday before Christmastime, we light all four candles.
The candle colors vary among traditions. Some denominations use blue and white candles, for instance, others, all white and others, red. But the concept remains the same: that in this time of increasing darkness, as the nights get longer and longer on the road to the solstice of Midwinter, we respond with ever increasing light of our own. If you are religious, it will represent the light of Christ. If you are not, let those candles represent the light within: your own light, your compassion and kindness: Hide not your light under a bushel.
Advent serves another purpose, too: It is part of what we have come to call the Slow Christmas Movement, which to me is about setting the stage to make a proper welcome for the yuletide season that arrives once Christmas Eve begins. But it's been a tough year, hasn't it? Lord knows we've all set the stage for needing joy over the course of this entire year. You do what's right for you. Here, we will still follow these old ways, for that is what makes us happiest. What matters is we find joy where we can, and share it with others. That's the whole point of hiding not your light.
It's not too late to order from our selection of sparkly Advent calendars from Germany and our daily Advent candles from England! We ship Priority Mail (2 days to most US destinations) AND we're running a sale: It's our Christmas Stock-Up Sale: $10 off your purchase of $75 plus free domestic shipping; use discount code STREETFAIR at checkout. Or earn free domestic shipping with your purchase of $50 (no code required). "Yule" find many great gift ideas at our online catalog!