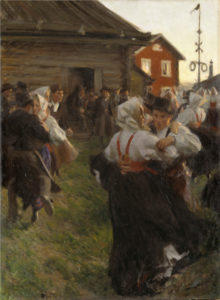 The summer solstice has passed, that longest day, shortest night. And just as at the opposite side of the year the winter solstice is followed quickly by Christmas Eve and Christmas Day, so now come St. John's Eve and St. John's Day. These are the celebrations known as Midsummer. We don't pay much attention to them here in the States, but there's a lot we don't pay attention to, and we are the poorer for it. In other places, though––Italy, for instance, and Scandinavia especially––these are high celebratory days. St. John's Eve, on the evening of June 23rd, welcomes in St. John's Day on June 24th. With the understanding that there is probably little community celebration you will find if you live in the United States (unless, like me, you live near transplanted Arctic peoples like Swedes and Finns), here are some suggestions on how to honor these days with simple yet reverent ceremony.
Blow the dust off a copy of William Shakespeare's A Midsummer Night's Dream and read it. Read it aloud with family and friends or read it to yourself. Tonight, St. John's Eve, is the very night in which this magical comedy is set, steeped in Midsummer lore and traditions.
Watch the film. There have been numerous film versions, but my favorite is the 1999 Midsummer Night's Dream directed by Michael Hoffman. It features Rupert Everett as Oberon and Michelle Pfeiffer as Titania with Stanley Tucci as Puck. Seth and I watch this one most every year around Midsummer. Oh, but if perchance the play is being performed near you… go see it. That's an even better option.
Listen to Felix Mendelssohn's music for A Midsummer Night's Dream.
Tonight, build a little fire in your back yard and sit and enjoy it. Or light a candle. Our ancestors loved to build beseeching bonfires for nights like this; there is something undeniably magical about it.
If you're a local, here's a wonderful thing to do Saturday night for St. John's Day: attend the Midnight Sun Festival at Kerhotalo: the American Finnish Club. Seth and I plan to be there. Festivities begin at 7 PM and the bonfire is lit around 9. There will be food available and there will be music, and it's $5 to get in, from what I can tell. (Most all the literature from the American Finnish Club is in Finnish with just a smattering of English, so I always have to make assumptions about the salient points.) It's usually not a big crowd, but it is a welcoming one, even if you don't speak the language. The American Finnish Club is west of Lake Worth at 908 Lehto Lane, Lake Worth, Florida 33461. From Lake Worth, head west on 6th Avenue South, which becomes Melaleuca Lane once you're outside the city limits. Not much past Kirk Road, you'll see Lehto Lane on your right. If you get to Military Trail, you've gone too far west.
I hope these things help you to have a wonderful evening. Oh but here's one more: just get outside. Take a nighttime ramble. Enjoy the evening. Perhaps you'll find flowers that bloom only at night, spicing the air. Or maybe you'll see fireflies or above, stars and satellites. Or maybe just fall asleep, and dream. Happy Midsummer.
Image: "Midsommardans" (which translates from the Swedish to "Midsummer Dance") by Anders Zorn. Oil on canvas, 1897 [Public domain] via Wikimedia Commons. Note the Midsummer Maypole with the circles in the upper right corner.