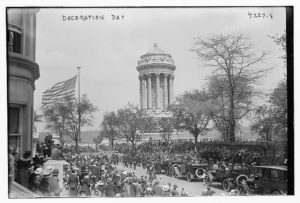 One of my favorite things about the Convivio Book of Days is when a reader shares with the rest of us their own traditions or memories in the comments section. To get any comments at all is a wonderful thing, as comments help us writers see that folks are actually reading and engaging. But I learn so much from you when you share what you do in your family or what you remember doing when you were a kid. And last year, in the comments section of the blog chapter for Memorial Day, Convivio pal Marilyn Pancoast wrote her memory of the day:
When I was young it was called Decoration Day and all the family's and friend's graves were cleaned and then decorated with flowers. Then in the late afternoon there was a parade and a ceremony after dusk. Someone, many times me, would play taps and small candlelit flower boats were released into the river. There was one for each soldier and sometimes more for others. The ceremonies and activities were quite moving and a way to involve and teach each new generation.
I think Marilyn sums up this day beautifully and I hope that someone on some river is still doing what she did when she was young. This is the day we remember our fallen heroes, those who gave their lives in service to their country. Memorial Day (or some version of it) is celebrated not just here in the United States, but in other countries, as well, and usually at this time of year, a tradition that harkens back to Ancient Rome. Our own Memorial/Decoration Day traditions in this country go back to the Civil War era. The original date, May 30, was chosen for it was believed that flowers for decorating graves would be in bloom in every state of the Union on that date. It's since been moved to the last Monday of May. This year it falls on the 29th, which happens to be the same date as my mom and dad's wedding anniversary. Those two good looking kids from Brooklyn tied the knot at St. Blaise Church on May 29, 1949––the Sunday, that year, of Memorial Day weekend. Today would have been their 68th wedding anniversary, but it's the first time we honor the day without Dad's physical presence. That will make for a bittersweet day, I know, but Memorial Day is kind of like this. It is our unofficial start of summer here in the US, but a somber one if we honor the day in its proper tradition. And so we decorate, and we remember. Flowers for remembrance, and flowers beckoning summer and the gentle time of year.
Image: Decoration Day. Photographic print from glass negative, 1917. From the George Grantham Bain Collection (Library of Congress) [public domain] via Wikimedia Commons.