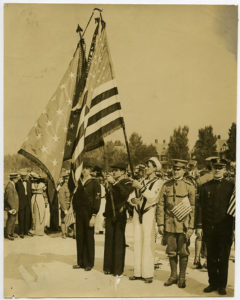 On Memorial Day and this weekend that has grown around it, we pause as a nation and remember. Pure and simple. It is the day we remember especially our fallen heroes, those who gave their lives in service to their country. Memorial Day (or some version of it) is celebrated not just here in the United States, but in other countries, as well, and usually at this particular time of year. It is a tradition that harkens back to Ancient Rome. The day was earlier on known as Decoration Day, and the Memorial/Decoration Day traditions in this country go back to the Civil War era. The original date, May 30, was chosen for it was believed that flowers for decorating graves would be in bloom in every state of the Union on that date. It's since been moved by act of Congress to the last Monday of May. It is our unofficial start of summer here in the US, but a somber one if we honor the day in its proper tradition. And so we decorate, and we remember.
Convivio friend Deborah Wolford wrote just the other day and told me what her family does for Memorial Day Weekend. I thought her family's way of honoring the day summed things up just right, and I asked if I could share her words. She gave her blessing:
We are getting ready to put the flags out in the front in a few minutes. Memorial Day has always been a family biggie. We have private family cemeteries in West Virginia and surrounding areas. It was always a tradition to clean them and decorate the graves—hence, Decoration Day. My grandfather used to go to take care of them at this time of the year. It took several weeks to get them done, so I rarely saw him for my birthday because of it. He would take various family members to help. It was a huge deal for my father as well. We honor our predecessors and those who served––this is the way it has always been.
And so we welcome summer, and, more importantly, we remember and honor.
Image: "Decoration Day, Jefferson Barracks, MO" by Carl Michel. Photograph, circa 1914–1918, Missouri Historical Society.