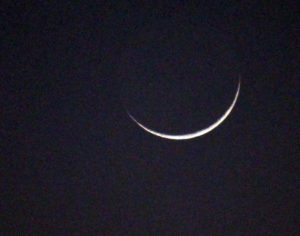 Ramadan moves through the year, each year earlier and earlier, and this year it begins with the sighting of this month's new crescent moon, which in most places is expected to be this evening, this 12th of April. It's not so much that Ramadan moves around as that it always comes in the ninth month of the Islamic calendar, and the calendar, being a lunar one, operates differently from solar calendars. Ramadan was a summer holiday a few years ago, and now it is a spring holiday, and it won't be long before it is a winter one… and sometimes Ramadan can come twice in a solar year, which will happen next in 2030, when it will be celebrated in January and again the following December.
Ah, but now it is spring and now comes Ramadan and with it, Muslims will fast during the daylight hours and eat and drink only when the sun is down, all through this month from one crescent moon sighting to the next. It is a time of reflection, a time of thankfulness, a time to gather with family, and a time, more so than other times of the year, for good deeds. Before the sun rises each day, many families will enjoy a big meal called suhoor, a meal meant to sustain through the day. (This is definitely not the time for a slice of buttered toast for a pre-dawn breakfast!) And once the sun sets again, the fast is broken with a sweet delectable date, followed by a meal called iftar.
With the sighting of the next crescent moon, this year in May, Ramadan will conclude with a big feast called Eid al-Fitr: the Sweet Festival. Our friend Manal Aman of Hello Holy Days! in Canada has for years been following her calling to make these holidays mainstream, something familiar to us all. She designs cards for Ramadan and Eid al-Fitr, and other products, too, like countdown calendars and gift bags. Her work is gorgeous, and, I think, so important in helping us build bridges rather than walls. We sell her cards at Convivio Bookworks and encourage you to have a look and if you know people who celebrate these holidays, join us in sending them greetings. In fact, this year, we are participating in Manal's Great Big Eid Card Swap and we've been buddied-up with a pen pal in Jackson Heights, New York. I am putting our card in the post today. You've got a whole month––all the way until the next crescent moon––to do the same for your friends who are celebrating. And when you do, tell them, "Ramadan Mubarak!"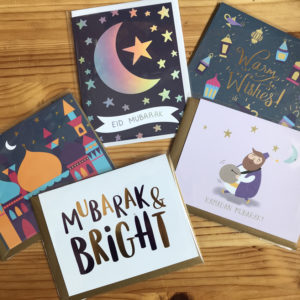 Shop our collection of Manal's cards for this season of Ramadan and Eid al-Fitr by clicking here. And back in November, Manal interviewed me on Instagram TV for her series ahead of Small Business Saturday; we had a fun time chatting about the book arts, about my mom, about our Shaker Rose Water and my experience as a print intern at the Sabbathday Lake Shaker Community, and why it's so important to us to carry Manal's work in our shop. You can watch the 30-minute interview by clicking here.