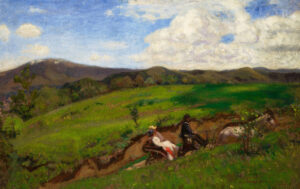 The First of March brings St. David's Day, sacred to Wales, and this year it also brings the moveable Shrove Tuesday, which goes by many names: Fat Tuesday, Mardi Gras, Pancake Tuesday. It is the final day of Carnival, the day that ushers in the solemn forty days of Lent that begin with Ash Wednesday. It is the night we traditionally eat pancakes or crepes for supper –– this, to use up the last of the eggs and the last of the milk and sugar before the restrictions of Lent kicked in.
This First of March also brings you the latest Convivio Book of Days Calendar. It's a printable PDF, and a fine companion to this blog. This month's cover star: a 1903 oil painting by Hungarian painter Béla Iványi-Grünwald called "Spring Excursion." This is the month, after all, of the vernal equinox. We began our anticipation of spring at the start of February with St. Brigid's Day, but in March, the season is made manifest. Days and nights will be of equal length for a spell, all across the globe, while here in the Northern Hemisphere light will continue to increase until the Midsummer solstice of June. Ever changing, ever the same.
The name Shrove Tuesday comes from Shrovetide, which is the time we've been in in recent weeks: this time after Christmas ends and before Lent begins. Ash Wednesday will bring its time of fasting and penance and reflection. Which is perhaps something we need every now and then. Well certainly once a year, it was thought, and why not now, when the larders were getting empty. Back in the days when food was not as plentiful and easily procured as it is now, Lent was crucial to help get everyone through to spring and renewal.
There are many traditions in foodways for Shrove Tuesday. The Polish bakeries will have pączki today, a rich filled doughnut, and the Swedish bakeries will have cream filled buns called semla. If they're doing things right they'll be selling them today but definitely not tomorrow and not again until next Shrovetide. In Germany, it is Fasnacht, and folks will be making doughnuts for the occasion this night (nacht) before the fast.
Seth and I, we will eat our pancakes tonight with festivity and in good spirit, and in the morning, if we have it in us, we will approach that altar to have ashes smeared on our foreheads with the spoken reminder: Remember man that thou are dust and to dust you shall return. We are made of the stuff of this earth and we shall return to it. But the stuff of this earth is made of the stuff of the stars, too, and that is something to ponder. If nothing else, these forty days that follow tonight's pancake supper will hopefully remind us that life is short, and we would do well to live the time we have with compassion and kindness for our fellow human beings, and to love each day, and, as we like to say here, to live the ceremony of each day, too.
Image: "Spring Excursion" by Béla Iványi-Grünwald. Oil on canvas, 1903 [Public domain] via Wikimedia Commons.