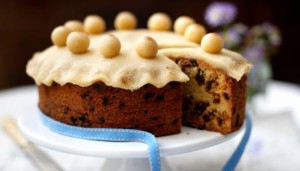 It is Midlent on Sunday, Laetare Sunday. In the church, colors will switch, just for today, from somber purple to joyful rose: a reward, perhaps, for getting this far in the forty day journey that takes us from Ash Wednesday to Easter. In the UK, it is Mothering Sunday: Mother's Day. In times past, this was the day to visit your mum and bring her a simnel cake; nowadays, the simnel cake seems more often transferred to Easter Sunday. It's a beauty of a cake with a long history, hundreds of years, at least to the time of our favored Book of Days poet Robert Herrick, who was probably eating simnel cakes every spring in the 1600s.
It is a light fruit cake, decorated with eleven balls of marzipan: they represent the twelve apostles, minus Judas Iscariot. If you're interested in making one, here's a link to a Convivio Book of Days post about Midlent from the past; it includes a fascinating story about the cake's origins and a link to a recipe from the BBC (which is also the source of the photo).
This time of Lent is known in Italy as la Quaresima, and I always look at the two words and think the Italian is so much more beautiful. It falls off the tongue like a dance, while the word "Lent" is so spare, so empty. Be that as it may, the Italians know it is a lean time. The symbol for la Quaresima is a gaunt old woman, all skin and bones, called la Quaresima Saggia… an old sage, known not for her beauty but for her wisdom. It is a wise person who understands that we must get through lean times, get through trials, to become better versions of ourselves. Back when food sources were less reliable than they are now, this period of late winter into early spring was always a lean time. A Lenten fast was pious to be sure, but it grew out of a matter of necessity.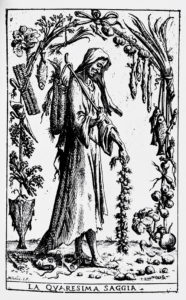 While the restrictions of Lent in earlier times were stringent, the rules nowadays are much less so (and perhaps this comes as a result of the food of this earth being more plentiful). In times past, it was no meat for 40 days, no eggs for 40 days… pretty much not much of anything for 40 days. One of my favorite things to make each Lent, though, is perfectly acceptable no matter how strict the fast: pretzels. They are a perfect Lenten bread, made, at their most basic, with just three ingredients, all Lenten-friendly: flour, salt, and water. Our recipe adds leavening and shortening to the dough (all Lenten-friendly), plus ale to the water for boiling… and the Church never had a problem with ale, which, for most of our history, was safer to drink than water. As a bonus, there is symbolism, too (and I love symbolic foods), for the classic pretzel shape of this centuries-old bread evokes the prayer posture of early Christians, who prayed with their arms crossed over their chest. Go ahead, try it right now, then look down at your crossed arms: classic pretzel shape. In fact, the name "pretzel" is thought to be derived from the Latin bracellae: "little arms," essentially. This penitential bread has a history that goes back much further than the simnel cakes mentioned above. People have been making pretzels since at least the 6th century, and some historians think pretzels may be three centuries older yet. Below, you'll find our pretzel recipe. They're fun and easy to make and a great project to tackle as a family, for who doesn't love a warm, soft pretzel? We encourage you to give the recipe a try.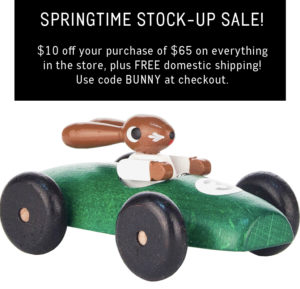 A reminder, too, about our Springtime Stock-Up Sale: at the Convivio Bookworks catalog, $10 off everything in the shop when you spend $65, plus free domestic shipping when you used the discount code BUNNY at checkout. New arrivals and other springtime offerings include handmade paper egg containers from Germany (perfect for your jelly beans and malted eggs come Easter!), handmade wooden bunnies from Germany to help welcome spring, as well as handpainted pysanky eggs from Poland and Ukraine, and handmade chenille chicks from Germany for your Easter basket. "Handmade" is the theme for almost everything we offer. Use the BUNNY discount code also toward all of our Shaker teas and culinary herbs, toward our selection of Ramadan and Eid cards from Hello Holy Days!, toward our beautiful triple layer face masks from Chiapas… everything we sell.
We're halfway through Lent… enjoy the rosy day. Now go ahead, make some pretzels!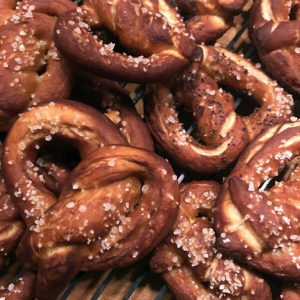 P R E T Z E L S
2 cups warm water
6 teaspoons yeast (two 1/4 ounce packages––we recommend rapid-rise yeast)
3/4 cup brown sugar, packed
6 1/2 cups unbleached bread flour
2 teaspoons course salt
1/2 cup cold unsalted butter (or shortening), cut in pieces, plus more butter for the pan (or vegetable oil cooking spray)
1 bottle ale or beer
1/2 cup baking soda
Course salt for topping, plus poppy seeds & caraway seeds (optional)
Take note, this recipe is best begun the night before you intend to make the pretzels. First, add yeast and 1/2 cup brown sugar to a bowl, then add the warm water. Let yeast mixture get foamy (about 10 minutes).
Next, mix the dough. Mix the flour and course salt in a bowl, then add the butter; mix until crumbly. Add yeast mixture and combine until the water is absorbed. Next, knead the dough on a board (or use a mixer with a dough hook attachment for this step, which makes things a lot easier). Once the dough is smooth and elastic, let it rise in a bowl (it will grow considerably, so use a large one). Wrap the bowl in plastic wrap and refrigerate overnight, or for at least 8 hours.
When you're ready to shape the pretzels, roll the dough out into a rectangle; it should be about 14 inches in one dimension and 12 inches in the other, which is important if you want pretzels that are uniform in size (and if you don't care about uniformity, make them any size you wish, which is what we did on Sunday). Cut the dough into twelve 14″ strips. Roll each into a rope double in size (so, at least 28″ long), then form into whatever shape you like. For a classic pretzel shape, form each long rope into a U, twisting the two ends in the middle twice, then fold the twisted portion down and press the ends of the ropes into the circular part of the pretzel to seal. Set each pretzel on the baking board or on a baking sheet coated with cooking spray.
Meanwhile, preheat the oven to 450º F. In a large pot, heat 8 cups water, ale (feel free to have a sip or two, so long as most of the ale ends up in the pot), baking soda, and remaining 1/4 cup brown sugar to a slow boil. Simmer pretzels, one at a time, for about 30 seconds, holding each below the surface with a slotted spoon, if necessary. This step is what gives the pretzels that delicious combination of crusty exterior and soft, chewiness inside. Transfer each simmered pretzel to a baking sheet coated with cooking spray. Sprinkle pretzels with salt, poppy seeds, caraway seeds, or some combination of toppings. Bake in the upper half of the oven for 5 minutes, then rotate baking sheet and bake 4 to 6 minutes longer, until the pretzels are dark brown. When done, cool on a wire rack… but these are best served warm, so let them cool for just a few minutes. You'll get 12 large pretzels from this recipe. If that's too many, the finished pretzels freeze really well. To enjoy them later, thaw and reheat in a 300º F oven until crisp.