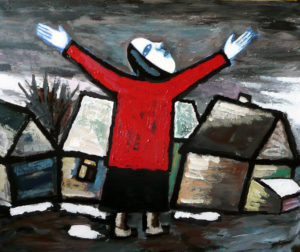 Shrovetide is the time we've been in in recent weeks: the time of merry making before Lent begins. And Shrove Tuesday is today: the very last of it. Tomorrow will bring Ash Wednesday and a decidedly not merry time: Lent, forty days of fasting and penance and reflection. Which is perhaps something we need every now and then. Well certainly once a year, it was thought, and why not now, when the larders were getting empty. Back in the days when food was not as plentiful and easily procured as it is now, Lent was crucial to help get everyone through to spring and renewal.
There are many traditions in foodways for Shrove Tuesday, known also as Mardi Gras. I'm not so crazy about the King Cakes that are in grocery stores this time of year––they're a bit too sweet and insipid for my tastes, with all that purple and green and yellow sugar. But the Polish bakeries will have pączki today, a rich filled doughnut, and the Swedish bakeries will have cream filled buns called semla. If they're doing things right they'll be selling them today but definitely not tomorrow and not again until next Shrovetide. In Germany, it is Fasnacht, and folks will be making doughnuts for the occasion this night (nacht) before the fast.
Seth and I, we'll be making pancakes for our supper, and that is an old delicious tradition, one designed for times when Lent was much more restrictive than it is now. Nowadays you're golden if you pass up on meat on Fridays, but in ages past, folks had to give up meat for all forty days, and also eggs and all kinds of things we take for granted now. Making pancakes for supper on Shrove Tuesday was a way to use up all the eggs, all the milk, and all the sugar before the next day's dawning brought Lent. We eat our pancakes with festivity and in good spirit, and in the morning, if we have it in us, we will approach that altar to have ashes smeared on our foreheads with the spoken reminder: Remember man that thou are dust and to dust you shall return. We are made of the stuff of this earth and we shall return to it. But the stuff of this earth is made of the stuff of the stars, too, and that is something to ponder. If nothing else, these forty days that follow tonight's pancake supper will hopefully remind us that life is short, and we would do well to live the time we have with compassion and kindness for our fellow human beings, and to love each day, and, as we like to say here, to live the ceremony of each day, too.
Image: "Shrovetide," a painting by Igor Novikov, 2013. No pancakes or semla or pączki to be found in the picture, but it's ok; I do love the painting. Used with gratitude through Creative Commons via Wikimedia Commons.