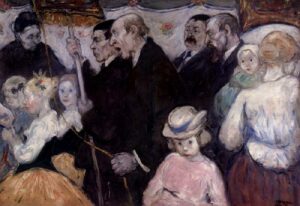 And now here is May. Walpurgis Night on the last night of April led us into May Day and Beltane. The conclusion of the Muslim month-long celebration of Ramadan just happened to coincide this year and now it is time to shift greetings from Ramadan Mubarak! to Eid Mubarak!, for now it is Eid, the Sweet Festival. As the month progresses, there will be more and more celebrations of spring and ultimately the spring to summer, for spring is fleeting and ephemeral.
Here now is your Convivio Book of Days Calendar for the month of May. It is our gift to you, a printable PDF, and as usual, an excellent companion to the blog. Cover star this month: a 1913 painting by Iso Rae called "Rogation Day Procession in Étaples" –– and there, in Rogation Sunday, you have another of the lesser known holidays this month. It is a month that's full of days like this, which is all the more reason to check out the calendar. Happy May! Eid Mubarak! May the month bring many blessings.
Image from our May Book of Days cover star: "Rogation Day Procession in Étaples" by Iso Rae. Oil on canvas, 1913 [Public domain via Wikimedia Commons].