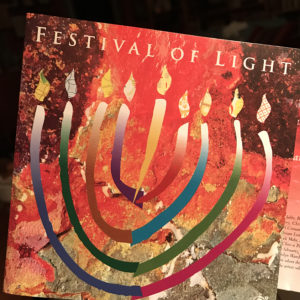 Our Northern Hemisphere nights, since the Midsummer solstice in June, have been growing increasingly darker with each passing day and now, on the approach to the Midwinter solstice, we come to the darkest, longest nights of the year. Our celebrations this time of year, across traditions––Jewish, Christian, and Pagan alike––call down the light, and here, with the setting sun on this 12th night of December, begins the festival of Hanukkah.
Hanukkah commemorates the defeat of oppressors in ancient Jerusalem by the Maccabbees. A small flask of oil––which should have illuminated the lamp of the Temple for a day––miraculously kept the lamp burning for eight days and nights. This miracle of the oil is commemorated with each Hanukkah celebration through the lighting of the menorah, a candelabra of nine candles: one central candle and eight others, one for each of those eight nights.
Across the eight nights, there are hearty foods to eat, songs to be sung and dances to be danced, and gifts to be given. The foods often are related to that miraculous oil: fried foods like potato latkes and jelly doughnuts are central to the celebration. (Doughnuts? Sign me up!) Through it all: increasing light, even through the increasing darkness. Common to all of us, for we know: "A flicker of light can dispel a room full of darkness."
Today also happens to be the Feast of Our Lady of Guadalupe, sacred to Latin America and especially to Mexico. It's a day that's of great importance to our friends Laura and Leon and all the other artisans we work with in San Miguel de Allende who make the painted tin ornaments and papel picado and Dia de Muertos calaveras we sell at our Convivio Book of Days catalog. Here's a link to last year's Book of Days chapter from the 12th of December, which was not about Hanukkah (a moveable feast) but about Our Lady of Guadalupe. The story is a bit about Seth and me and the evolution of Convivio Bookworks, too… because Our Lady of Guadalupe is, in an odd serendipitous kind of way, a bit responsible for a lot of what you may love about Convivio Bookworks.
Image: Cover art to "Festival of Light," a collection of Hanukkah songs released by Six Degrees Records in 1996. It includes Marc Cohn, the Klezmatics, and a song by Jane Siberry called "Shir Amami."