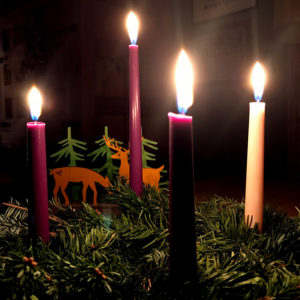 The Twelfth Month of the year has arrived. It's December, last of the Ember Months. It is the time of greatest darkness in the Northern Hemisphere. As such, it is a month filled with light of our own making: the illuminated lights on our houses, the candles burning in our advent wreaths and menorahs and kinaras and on the wreaths worn by Lucias in Sweden in their processions through dark churches, accompanied by girls dressed all in white, carrying candles, and by star boys, in white as well, with candles and conical caps on their heads. Such long long nights, and yet so much illumination, dispelling the darkness. This is the theme of December.
And here is your Convivio Book of Days calendar for December, as well. Light is our cover star, in the form of the advent wreath, so rich with meaning. Each Sunday, we light one more candle. The nights of December grow darker and darker, and we respond with more and more light: that light of our own making, the light of hope and love and kindness. Indeed we are reminded this month, over and over again, that we are given the opportunity to be light bearers, in how we respond to the darkness and to each other. It's in our hands.
Tomorrow brings, as well, the first of the midwinter gift bearers: the 5th brings the Eve of St. Nicholas' Day, and the good saint travels far and wide delivering presents… often accompanied by dark companions, known as Krampus, Pelznickel, Black Peter, or Knecht Ruprecht, depending on where you are. Darkness and light: close companions. Leave out your shoes, and fill them with sweet hay and carrots for St. Nicholas' donkey!
COME SEE US!
We're popping up at quite a few local South Florida venues through mid December. The big event this weekend? The Christkindlmarkt at the American German Club!
Real Mail Fridays: Winter Card Writing Social
Friday December 6 from noon to 6 PM
at Jaffe Center for Book Arts in the Library at Florida Atlantic University
777 Glades Road in Boca Raton
There'll be a mini Makers Marketplace at this annual event so you can do a little shopping, but also bring your Christmas cards and Hanukkah cards and New Year cards and get the task of writing them started (or tackled) in a festive environment with other like minded souls. Great fun!
Christkindlmarkt
Saturday & Sunday December 7 & 8 (2 to 9 PM on Saturday; 1 to 8 PM on Sunday)
at the American German Club
5111 Lantana Road in suburban Lake Worth
Convivio Bookworks will be part of this old time German Christmas market at the American German Club, west of the town of Lantana. At our booth you'll find traditional handmade German Christmas items, and plenty of other handmade items from our Swedish and Mexican collections, too, as well as Shaker herbs & teas, and my mom's famous handmade candy wreaths.
Undiscovered: An Inclusive Arts Festival
Saturday December 14 from 10 AM to 4 PM (but we have to pack up by 3!)
at Palm Beach Habilitation Center
4522 South Congress Avenue in Lake Worth
We're so excited to take part in this inaugural arts fair at the Hab Center, which does such wonderful work helping folks with disabilities become more independent through training and employment. There are art projects that EVERYONE can participate in, and there's a pop up market; we'll be there with lots of great artisan goods from our catalog.
Holiday Night Market
Saturday December 14 from 4 to 8 PM
at Social House
512 Lucerne Avenue in Downtown Lake Worth
It's always a special night at Social House. We'll be showing our Christmas artisan goods and Shaker teas (and my mom's famous candy wreaths). One of our favorite markets at one of our favorite places!
Midwinter Makers Marketplace
Sunday December 15 from 10 AM to 4 PM
at Florida Atlantic University
777 Glades Road in Boca Raton
It's full swing yuletide and we'll be showing our handmade artisan Christmas ornaments and decorations from Germany, Sweden, and Mexico and our full line of Shaker herbs & teas and more (like my mom's famous candy wreaths). Plus there's live music almost all day: Ella Herrera from 10 to 1 and Rio Peterson from 1 to 4. Look for the blue & white MAKERS MARKETPLACE signs on FAU campus roads.
Revelry Sip & Shop
Sunday December 15 from 1 to 6 PM
at Revelry Lake Worth
17 South J Street in Downtown Lake Worth
Find us in the courtyard with our handmade Christmas artisan goods and Shaker herbs and teas and more (including my mom's famous candy wreaths again!). They're serving mimosas!