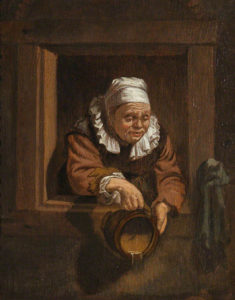 Oh yes… to all you have said.
Tears streaming down my face… missing so much and so many.
Thank you to you and Seth from our very grateful hearts.
Was this the year to teach us how achingly we love?
–– Carl and Kathleen Maugeri
It goes without saying, but I'll say it anyway: 2020 has been a helluva year. When I wrote my Christmas Eve Dispatch from Lake Worth at the start of the Christmas season, I didn't realize it would resonate with quite so many people. But it did, because we are all feeling a bit weary, and our collective hearts are heavy. The response that moved me the most came from longtime Convivio Book of Days readers Carl and Kathleen Maugeri. I asked if I could reprint their message. They said sure. It's that line about 2020 teaching us how achingly we love that punched me in the gut, just as much as Judy Garland singing "We'll have to muddle through somehow" did when I heard those words last week before Christmas. Perhaps a year that teaches us things like this can't be all bad. Be that as it may, tonight, we bid good bye to it, and hope for brighter days in the year we next enter.
SIXTH DAY of CHRISTMAS
New Year's Eve, Hogmanay, First Footing
It's the close of the old year, the welcoming of the new. It is a time of complete chaos, when you really think about it, and the symbolism of the New Year is potent magic. New Year's Eve, which comes tonight, is perhaps the most common night of the year for symbolic foods and rituals. Visit the grocery stores here in Lake Worth and the first thing you'll see upon entering are black eyed peas and fresh collard greens, and not too far from them, champagne and grapes. Champagne at midnight on New Year's Eve has become rather universal. The peas and greens are traditional New Year foods here in the South. As for the grapes, well, one old Italian tradition in my family is to eat twelve grapes at midnight for twelve months of luck; we used to do this, but I don't push it anymore. On my dad's side, Grandma Cutrone used to make sure everyone had a spoonful of lentils at the stroke of midnight. In fact, the humble earthy lentil, cooked in various savory dishes, is very big throughout Italy for Capo d'Anno, the New Year. Lentils symbolize riches (think of each lentil as a coin, and you'd have quite a stash in each bowl). "Out with the old" is also very big in Italy for New Year's Eve, and Italians traditionally make a clean sweep of things at midnight, opening the windows and tossing old useless possessions out onto the streets, no matter from what height (and with great gusto, no less). It can be a dangerous night for a walk about! The act is rich in symbolism, though: this is a night to shed what is unwanted, to dispel bad energy, to clear the way for good things to come.
The only New Year's Eve tradition that seems to be a requirement for my family is the zeppole. These are different from the zeppole we buy for St. Joseph's Day in March; New Year's Eve zeppole are a sort of fried doughnut––a yeast dough, much like pizza dough, but enriched with eggs. Mom will make the dough and let it raise and sometimes it will bubble up over the sides of the bowl it's proofing in and then she'll spoon the dough into hot oil, stretching the dough as it slides into the fat. The result is a light, fried treat that comes in all sorts of shapes that remind you of all sorts of things as you eat them, whether they be drizzled in honey or dusted in powdered sugar or cinnamon sugar. They are so delicious. My dad loved them much more than he liked lentils.
In Scotland, the new year celebration is the biggest part of the Yuletide season. The celebration there is known as Hogmanay, which is believed to to be derived from the French au gui menez, "lead to the mistletoe," and this suggests a very ancient and pre-Christian derivation of most Hogmanay traditions, for it leads directly back to the Celtic druids and the mistletoe that was sacred to their ceremonies. "First Footing" is an aspect of Hogmanay that feels particularly like a magic spell: The first person to step across the threshold of the front doorway after midnight is the First Footer, and it is hoped that this person would be a red- or dark-haired man carrying whisky or mistletoe or, in some cases, bread, salt and coal. In this case he would kiss all the women and shake the hands of all the men before placing the coal on the fire and the bread and salt on the table and then he'd kiss all the women and shake hands with all the men once more on his way out. This year, with social distancing, the First Footer will have to skip the kisses and handshakes. Lots of folks like to open all the windows and doors at midnight on New Year's Eve, too; this, to cast out the old year and usher in the new. All that ventilation will serve us well this year, too.
And so fast away the old year passes. When next you hear from me, we will be amongst the six days of Christmas that fall in the new year, and the message will include our recipe for a hearty wassail. Plan ahead now by gathering the following: about 2 pints of beer or ale (a large bottle), a half pint each of pineapple and orange juices, an apple and a lemon, and mulling spices. Our wassail will provide you with a good way to welcome the year and will have you shouting, "Cheers and wassail, huzzah and good will to all! Merry Christmas! Happy New Year! May it be a good year for us all!"
Image: "An Old Woman at a Window, Emptying a Chamber Pot" by an anonymous artist, after Frans van Mieris the Elder. Painting, circa 1700–1724. [Public domain] via Wikimedia Commons. The combination of an open window and the emptying of a chamber pot feels appropriate as we proceed from this particular old year to the new.