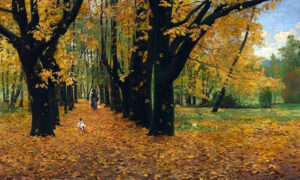 October: Such a beautiful month! And here is your Convivio Book of Days Calendar for the month, hopefully almost as beautiful. Cover star: autumn foliage, which is a scene we don't see much of here in Lake Worth. The occasional Florida Almond tree will turn suddenly red, perhaps, but this is a few-and-far-between experience. On the heels of Hurricane Ian, the weather here is cool and dry. Ian, in his way, sucked summer away. A rather violent end, but that's how this land is sometimes. We build seawalls and we pave over the green and we erect concrete structures, but Nature has a way of reminding us who is ultimately in charge. I imagine sometimes all that we build left unattended for a spell and wonder how long it would take for everything to be covered in vines, how long it would take for everything to be reclaimed. Ours is a strange green land that never rests; the vegetation just grows and grows, plants sprouting leaf and tendril without end, day in, day out. So much different than northern climes, where autumn brings winter, and pause and rest.
The apples and pumpkins are shipped to us, and we are grateful to you for this. We'd be lost without you, devoid of all things iconically autumn. We do have the Seminole Pumpkin here, and the Calabaza, but when I sent pictures of these varieties several years ago to a pumpkin-growing friend in Maine –– one who grows old autumnal standards with rich pedigrees like the deep red Rouge vif d'Etampes pumpkin and the blue green Jahhradale pumpkin –– well, she made it clear she was not impressed. The Seminole and the Calabaza are good eating, but they are not the prettiest pumpkins in the patch. We thank you, then, for all the beautiful pumpkins you send to our markets, and for all the crisp, tart apples.
This autumnal month begins in an angelic way with the Feast of the Guardian Angels on the Second of October. It is an old, old celebration, dating back the Fourth Century, when folks began setting up altars in their homes honoring their angelic protectors. It is one of the oldest feasts of the Church, and one of the most personal. It is said that each of us has an angelic protector, and that we rarely know all they do for us. Me, I do my best to remember that maybe that driver who pulls into the road in front of me and slows me down is perhaps saving me from some terrible accident that may have happened further up the road had I not been hindered. Maybe that driver is my guardian angel. Maybe his name is Pablo and maybe he didn't really deserve all the expletives I was hurling his way. Maybe I need to appreciate moments like this more than I do. The Feast of the Guardian Angels is perhaps the logical conclusion to the Feast of St. Michael the Archangel that we celebrated on the 29th of September: an angelic time of year. Also this month: Yom Kippur and Sukkot in the Jewish calendar, and in the Hindu, Sikh, and Jain calendar, Diwali: the Festival of Lights. Hallowe'en, at the close of this month, welcomes us to the time each year when we remember our beloved dead, keeping them close at heart. This union is part of what makes October such a beautiful month.
COME SEE US!
Our pop-up market season begins next weekend! Our first big event is OKTOBERFEST at the American German Club, 5111 Lantana Road, Lake Worth FL 33463. Two consecutive weekends: Friday, Saturday, & Sunday October 7 through 9, then again the following Friday, Saturday, & Sunday, October 14 through 16. Convivio Bookworks will be there in our big new 10′ x 20′ tent, and right next door in a normal size tent, you'll find my mom and sister, selling Mom's hand-embroidered Millie's Tea Towels. You need to purchase tickets in advance for Oktoberfest; it's rare that tickets are still available at the gate. Click here for tickets and more information. It's a wonderful event, and we plan to have our full line of handcrafted artisan goods from Germany there, for all the seasons of the year: not just fall, but spring and Christmas, too.
AUTUMN SALE
For the next week or so at our online store we're offering $10 off your purchase of $85 or more, plus get free domestic shipping. Just use discount code AUTUMN22 at checkout. We're adding new items this time of year almost daily! You'll find new items from Germany for Hallowe'en and Christmas, plus new Advent calendars and candles are coming this week, and we're getting ready for Dia de Los Muertos, too. Lots to see! CLICK HERE to shop!