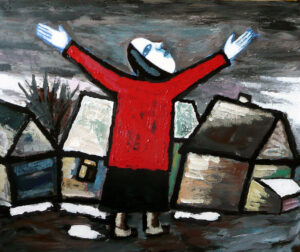 February is here and here is your Convivio Book of Days Calendar for the month. On this First of February we celebrate St. Brigid's Day, and tho it be wintry out there (Brother Arnold at the Sabbathday Lake Shaker Community wrote to say it would be 1 degree there tonight), Brigid is our reminder that spring is coming; she is our bridge from winter to spring. Imbolc reminds us of this same thing; it also falls on this First of February. And with the setting sun this first day will come Candlemas Eve. It is the night in this house when we take our Christmas tree out to the yard and remove all other vestiges of yuletide greenery. We've delighted in Christmas these past 40 days, but it is time to step upon that bridge toward spring. By week's end, the Carnival Season will begin in Venice, Italy, and before the month is done, we will enter into the more somber season of Lent.
Valentine's Day, of course, is the star of the month. Or Galentine's Day, or Palentine's. Whatever version you are celebrating, we've got some nice gift ideas for you at our online shop.
SHOP OUR VALENTINE SALE!
Spend $85 across our catalog and take $10 off, plus get free domestic shipping, when you enter discount code LOVEHANDMADE at checkout. That's a total savings of $19.50. Click here to start shopping. We've got some wonderful new handmade artisan goods from Mexico, as well as brand new handmade Murano glass dipping pens and lovely writing papers from Italy. Mom has made some brand new hand-embroidered tea towels, too, and we'll have them on the website later this week. We're also about to announce two new letterpress printed publications: our 2023 Copperman's Day mini print, and our newest poetry broadside, which we printed at the Midwinter solstice. Shop at conviviobookworks.com… and your purchases translate into real support for real families, small companies, and artisans we know by name.
Blessings to you for Imbolc, St. Brigid's Day, and Candlemas. May Punxsutawney Phil bring you the news you're hoping to hear. A good month to you all.
Image (and calendar cover star): "Shrovetide, or Spring has Come" by Igor Novikov, 2013. Creative Commons via Wikimedia Commons.