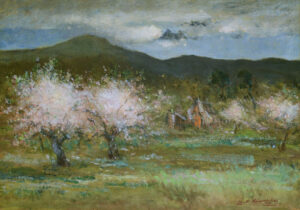 And now it is April and here is your Convivio Book of Days Calendar for the new month. By the almanac it is the first full month of spring, and our cover star for April is a 1927 painting by Elliott Daingerfield called, appropriately, "Springtime" and it is one that reminds me of the blossoming trees in Alabama when I lived there. Spring was by far my favorite time of year those years as I learnt to make books at the University, and next Friday, I get to revisit, virtually, for a program there in which I'll be participating. I doubt they'll show the blossoms on the trees on the Zoom call, and all the petals drifting down from the sky like snow, but if they did, gosh, it would make me beam to see them again.
Thanks to a chewing squirrel in the alleyway behind the house, we and two neighbors had no Internet service for a long few days last week, so I never got to warn you about All Fools' Day last Friday and also the rising of the new moon that same night, which began the celebration of Ramadan. The celebration continues for a month, followed with the next new moon by Eid al Fitr, and we have cards for both at our online shop, cards made by our friend Manal Aman of Hello Holy Days! in Canada (click here to shop). Manal also loves our Shaker Rose Water, as it is made without alcohol, and you'll find that on the same page. (It is a beautifully mysterious and ancient flavor for cakes, cookies, French toast, and more.)
And now, nothing much happens this month ceremony-wise until we enter into the mysteries of Holy Week and Passover. But on this month's calendar, we also tell you about a springtime excuse to enjoy egg nog, a mysterious night for divination, and the welcome of traditional summer at the month's close. Intrigued? Print the calendar. It's our monthly gift to you; a fine companion to this blog.
To help you prepare for Easter and Springtime, we're running a sale, and, for the locals, we'll have a pop-up shop at Lake Worth's inaugural Taco Fiesta next Saturday, April 9, at Bryant Park on the Lake Worth Lagoon. I think it's going to be amazing… and our friend Jose Mendez, who organizes this and our Dia de Los Muertos celebration each year, tells me there will be a marimba band. This excites me. I love marimba. So first, here's the deal on the fiesta: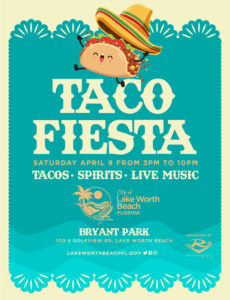 We'll be there in our pop-up market tent with as much of our collection of Artesanías Mexicanas that we can bring –– handcrafted goods from artisans in Mexico: textiles, Day of the Dead figures for your ofrenda, papel picado (cut paper banners), painted punched tin, and more. We'll also bring as many of our traditional Easter goods as we can from Germany, Sweden, and Ukraine, and my mom and sister plan to be there with us, so we'll bring Millie's Tea Towels and you can meet Millie, too. Lake Worth's Taco Fiesta is Saturday April 9 from 3 to 10 PM at Bryant Park at Lake Avenue on the west side of the lagoon (100 South Golfview Road is the proper address). For the rest of you who are not nearby or for those of you who can't make it to the fiesta, we have a sale: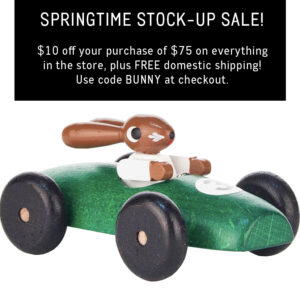 It's our Springtime Stock-Up Sale on everything in the online shop: Use discount code BUNNY to save $10 when you spend $75, and get free domestic shipping, too. Click here to shop! This year we have our largest selection ever of traditional springtime handicrafts from Germany, Sweden, Poland, and, most especially from Ukraine. From Germany, we have more handmade wooden bunnies than ever, plus a beautiful natural Easter grass for your basket, and none of this plastic stuff, ours is made from dyed wood wool, which in this country is better known as excelsior, and it's just gorgeous in a basket. We even have some handmade splint wood baskets from Germany, and lots of new paper egg containers that you can fill with Easter candy. From Sweden, the most adorable handmade egg candles in traditional and dyed egg colors; we sell them in cute half dozen egg cartons.
And from our friend Kyrylo in Lviv, Ukraine, we have traditional crafts that he purchases from the women who make them in remote villages of the Carpathian Mountains. Our hope is that their remoteness keeps them somewhat safe from the war there. As for Kyrylo, he lives in Lviv, which is in the western part of the country, and it was relatively safe there until just two weeks ago. But Kyrylo continues to send us the things we buy, and he sends us updates on how he's doing. He deals in Ukrainian crafts but he also owns a pizzeria and he's been donating pizza every day to the refugee camps in Lviv, doing his part to feed his fellow citizens that have fled the north, east, and south of Ukraine. We are sending Kyrylo all the profits from the handpainted wooden pysanky eggs we sell this Easter, to help him in his mission. We've been selling these pysanky for years, but suddenly this year, these eggs are charged with meaning: renewal, yes, but also support.
Just a couple of days ago we received one more package from Kyrylo containing more items we bought from him: 150 more wooden pysanky eggs, but also two beautiful hand carved wooden crucifixes, and 40 pysanky made from real eggs, made in the traditional way: no paint, just beeswax and a stylus and dye. They are exquisite. You'll find them at our website… please click here to shop, or just to take a look at how beautiful these pysanky are. Even in the midst of so much suffering and destruction, beauty. This is almost incomprehensible to me, but I guess this is the human spirit in the face of adversity. We just keep putting one foot in front of the other. What other choice do we have?
Top Image: "Springtime" by Elliott Daingerfield. Oil on canvas, 1927 [Public domain, via Wikimedia Commons].