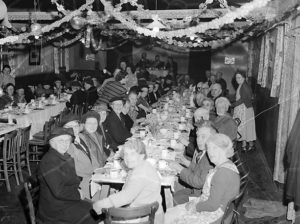 SIXTH DAY of CHRISTMAS:
New Year's Eve, Hogmanay, First Footing
Here we come to what is perhaps Seth Thompson's least favorite night of the year: New Year's Eve. "Too much pressure," he says."Everything hinges on one precise moment." And so each year I deal with this. But if there is one thing I really love about New Year's Eve, it's the zeppole. These are different from the zeppole we buy for St. Joseph's Day in March; New Year's Eve zeppole are kind of a fried doughnut––a yeast dough, much like pizza dough, but enriched with eggs. Mom will make the dough and let it raise and sometimes it will bubble up over the sides of the bowl it's proofing in and then she'll spoon the dough into hot oil, stretching the dough as it slides into the fat. The result is a light, fried treat that comes in all sorts of shapes that remind you of all sorts of things as you eat them, whether they be drizzled in honey or dusted in powdered sugar or cinnamon sugar.
The zeppole are all we really need in my family for a fine New Year's Eve, but our tradition is to make all kinds of party foods: pigs in the blanket, glazed meatballs, spinach & artichoke dip, things like that. I did try once or twice to get my family to eat lentils for New Year's Eve dinner, but I've always been met with stiff resistance. Grandma Cutrone, however, would make a pot of lentils, and would come round to whoever was gathered at her home at midnight on New Year's Eve to offer them a spoonful: Lentils for wealth in the new year, the lentils symbolizing coins and riches.
Hogmanay and First Footing refer to the New Year's traditions of Scotland, where the new year celebration is the biggest part of the Yuletide season. The celebration there is known as Hogmanay, which is believed to to be derived from the French au gui menez, "lead to the mistletoe," and this suggests a very ancient and pre-Christian derivation of most Hogmanay traditions, for it leads directly back to the Celtic druids and the mistletoe that was sacred to their ceremonies. First Footing is an aspect of Hogmanay that feels particularly like a magic spell: The first person to step across the threshold of the front doorway after midnight is this First Footer, and it is hoped that this person would be a red- or dark-haired man carrying whisky or mistletoe or, in some cases, bread, salt and coal. In this case he would kiss all the women and shake the hands of all the men before placing the coal on the fire and the bread and salt on the table and then he'd kiss all the women and shake hands with all the men once more on his way out.
New Year's symbolism is potent magic, and New Year's Eve is perhaps the most common night of the year for symbolic foods and rituals. If you have some that are part of your traditions, I'd be honored if you shared them here in the comments section. It's easy to do so and it helps us all to learn, so please join in and help make this a conversation. Between your input and mine, maybe we can help Seth see that New Year's Eve is not so bad, after all.
Image: "The Oswestry Old Folks Club New Year Party" or, in Welsh, "Parti Dydd Calan Clwb Henoed Croesowallt." Photograph by Geoff Charles, in Wales, 1955 [Public domain] via Wikimedia Commons.