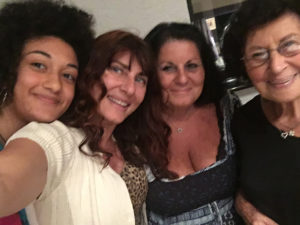 It was Pizza Night on Saturday––homemade pizza that my mom and sister made from scratch. My grandma used to do this when I was a boy and it was a very big production back then: I would watch as Grandma measured the flour and salt out onto the wooden board and form it into a well; the yeast, proofed in warm water, would go into the well, and then Grandpa would hold the board steady while Grandma mixed and kneaded the dough, by hand. It took muscle and strength. It seemed every baking project began this way, whether it was pizza or taralli or macaroni or the crustilli at Christmas.
Nowadays the dough-making is easier––my mom and sister use the big stand mixer on the kitchen counter. One result, maybe, is we have these things more often. But still it's special anytime there is homemade pizza or homemade anything. My family truly uses food as an expression of love. Sitting down for a meal––especially a Sunday dinner, as we will today, for Mother's Day––comes with an understanding that it is an event that will last for hours. There is always abundance and we are always well fed and fully loved. I'm sure there are psychologists who will find this unhealthy, but this is the way of my family. And when you get right down to it, it is the core of the Convivio way of doing things. Mangia is our mantra.
Mother's Day here will revolve around the table, which is no surprise. We will gather and we will celebrate all of the mothers in our lives, being thankful for each of them, whether they are with us now or not, and whether they are mothers we were given or mothers that we chose. The definition can be very open. Certainly all of the women who took part in raising me––mother, grandmothers, sister, aunts, and more––all have played their part. How wonderful to be part of that community.
Image: India, Luisa, Marietta, Carmela––mothers and daughters––at Saturday night's pizza party.