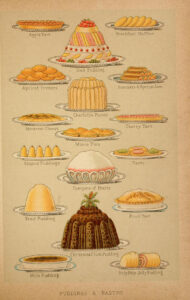 Today's Convivio Book of Days chapter takes the prize for Longest Title Ever, but I wanted all the words there: they make me smile. These are the words of the day for Stir-Up Sunday, which is today: the last Sunday before Advent begins, and the traditional day to bake fruitcakes and get puddings started so they have time to properly age before Christmas.
The timing is just right and it just happens to coincide with the collect––the prayer after Communion in the Anglican Church, which goes like this:
Stir up, we beseech thee, o Lord, the wills of thy faithful people;
that they, plenteously bringing forth the fruit of good works,
may of thee be plenteously rewarded; through Jesus Christ our Lord. Amen.
Those traditional fruitcakes and steamed Christmas puddings that the Anglicans love so much require a good four weeks to age and become sufficiently brandy-soaked to reach their best depth of flavor. Some of us would argue that it requires the four weeks of Advent for our Christmas celebration to be the best that it can be, too: four weeks to prepare and to make our houses as fair as are able. This is a concept we here at Convivio Bookworks are all for: We call it the Slow Christmas Movement. It focuses on the idea of taking time to savor each season as it comes: the four weeks of Advent being a time of preparation for the joy of Christmas that follows… and then allowing Christmastime itself to last its full season: Christmas Eve, Christmas Day, and all the Twelve Days of Christmas that follow, and if you really love Christmas, you might celebrate the ancient tradition we follow each year, keeping Christmas all the way to Candlemas Eve at the start of February.
Ah, but I am getting ahead of myself. For now, let's focus on today: Stir-Up Sunday. It is said that a good British Christmas pudding should contain thirteen ingredients––one for Jesus and each of his disciples––no more and no less. And when it is prepared on Stir-Up Sunday, each member of the family should give the pudding a stir, making a wish as they do. The stirring must be from east to west: the same direction the Magi traveled to visit the newborn child. If Christmas puddings and fruitcakes are not in your repertoire, it's also a good day to make any Christmas spice cookies that require time for flavors to develop: German Pfeffernüsse, for instance.
But maybe this is the year you should try your hand at one of these steamy puddings! To that end, here is Nigella Lawson's recipe for her Ultimate Christmas Pudding. You'll find two versions presented there: one in metric measures and one in imperial measures. The two versions have more differences than just ways of measuring ingredients: The metric includes the British name for raisins (the lovely word sultanas), but it also lists suet as an ingredient, where in the American version, the suet is replaced by vegetable shortening. I'll be making this using the shortening. l will also soon be dusting off music for the Advent season, which I think I love as much as Christmastime itself. I am, at heart, a guy who loves anticipation. Stir-Up Sunday and Advent? These things are right up my alley.
Speaking of prayers and collects: Would you please offer a prayer for my mom, Millie? She's been in the hospital since Friday as a result of a UTI that came without symptoms, and severe dehydration. She is doing much better. We're mainly trying to get her appetite back again and get her back home again as soon as possible. Thank you.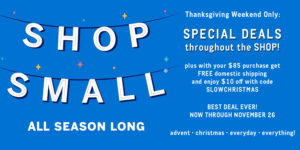 ONLINE SPECIAL in the SHOP
When it comes to small businesses, Convivio Bookworks is about as small as it gets and so the appreciation is genuine. Your purchases support real people, many of whom we know personally. In that spirit of appreciation, we've got a weekend of special markdowns on many items at the website, plus you can use our SLOWCHRISTMAS discount code for an additional $10 off your $85 purchase, which also gets you free domestic shipping. Basically: If there are items in our shop that you've been keeping an eye on, this weekend brings the best deal we'll offer all year. You'll find the markdowns in our Advent, Christmas, and Specialty Foods departments, and the discount code is good on everything in the shop. And if you've not visited in a long while, I think you'll be pleasantly surprised at all you'll find that is new. CLICK HERE to shop! The special sale was meant to end once Sunday night passed, but we'll go ahead and keep it going for one more day, through the end of Monday, November 27.
COME SEE US!
We've got several pop-up markets planned these next few weeks and we'd love to see you if you're local!
Tuesday November 28, Delray Beach
DELRAY BEACH 100′ CHRISTMAS TREE LIGHTING & YULETIDE STREET FAIR
We'll be there on the grounds of Old School Square near the 100′ tree in our 10′ tent with a nice little shop of Advent candles and calendars and Christmas goods from Germany, Sweden, and Mexico. Tuesday November 28 from 6 to 9 PM at Old School Square, Downtown Delray Beach.
Saturday December 2, Miami
CHRISTMAS MARKET MIAMI
We'll have a huge pop-up shop (one of our biggest ever) filled with handmade artisan goods from Germany & Sweden plus specialty foods, too, and our Advent candles and calendars. Saturday December 2 from 11 AM to 8 PM, indoors and outdoors (we'll be indoors) at the German American Social Club in Miami, which is where we spent Oktoberfest this year. 11919 SW 56th Street, Miami.
Saturday December 2, Boca Raton
SANKTA LUCIA FESTIVAL & JULMARKNAD
This lovely festival is a fundraiser hosted by SWEA, the Swedish Women's Educational Association. It will be held at the First United Methodist Church of Boca Raton at 625 NE Mizner Boulevard on Saturday December 2 from 11 AM to 3 PM. Our pop-up shop will feature traditional and contemporary Swedish Christmas items plus Advent candles and calendars, and some delicious German Christmas cookies and candies, too. (Same day as the Christmas Market in Miami, but don't worry, we'll be at both!)
Sunday December 3, Coral Gables
DEUTSCHER WEIHNACHTSMARKT (GERMAN CHRISTMAS MARKET)
It's the 19th Annual Deutscher Weihnachtsmarkt (or German Christmas Market) at the beautiful historic Coral Gables Congregational United Church of Christ, 3010 De Soto Boulevard in Coral Gables, in view of the Biltmore Hotel. We'll have a tent outdoors on the grounds with an assortment of German handicrafts for Christmas plus specialty foods. Noon to 5 PM.
Friday December 8, Lake Worth
KRAMPUSNACHT
On the Eve of St. Nicholas' Day, it is Krampus who accompanies the good saint to scare girls and boys into good behavior, and he gets his own celebration at the American German Club in suburban Lake Worth on Friday evening, December 8, from 7 to 11 PM. We'll be there with our biggest pop-up shop ever as this night ushers in the weekend's Christkindlmarkt. Tickets required and must be purchased in advance. 5111 Lantana Road, Lake Worth.
Saturday & Sunday, December 9 & 10, Lake Worth
CHRISTKINDLMARKT
It's our favorite event of the year! The annual Christkindlmarkt at the American German Club in suburban Lake Worth is just wonderful, and we'll be there with our biggest pop-up shop ever, filled with German Christmas artisan goods plus more from Sweden and Mexico, as well as specialty foods and who knows what else! Tickets are required and must be purchased in advance. Usually sells out! Saturday December 9 from 2 to 10 PM and Sunday December 10 from 12 to 8 PM. 5111 Lantana Road, Lake Worth.
Click on the pictures to make them larger! Top Image: An illustration page from a book with an even longer-winded title than today's blog post: The Everyday Cook and Recipe Book: Containing More than Two Thousand Practical Recipes for Cooking Every Kind of Meat, Fish, Poultry, Game, Soups, Broths, Vegetables and Salads: Also for Making All Kinds of Plain and Fancy Breads, Pastries, Puddings, Cakes, Creams, Ices, Jellies, Preserves, Marmalades, Etc., Together with Various Miscellaneous Recipes for Preparation of Food and Attentions to Invalids, All Carefully Prepared and Practically Tested. Phew! That's a mouthful. The book is by E. Neil and was published in New York by J.S. Ogilvie, 1891 [Public Domain] via Wikimedia Commons.