Tonight, amidst the glow of a waning moon and the orange and purple lights we've begun to string through our home, it feels like a good night to pull a couple of chairs together, just us, you and me, maybe by the fire if you have one burning. The nights are growing cooler and longer here in the Northern Hemisphere, even here in Lake Worth. Leaves are falling from the trees in northern climes as trees cease their production of clorophyl: their energy is directed now underground, to growth we are not privy to witness.
Just as the trees shift their attention underground, so do we in our way. We gather in our harvest, store what is good for use throughout the dark months to come. We gather in our thoughts, shift our energy inward: in to the home, to the hearth, to the table, to the heart.
This autumnal time has also, since time immemorial, been the time to shift our focus underground in more literal ways: we are approaching the time when we remember our beloved dead. With the approach of November, we prepare for the feast of I Morti in Italy and in Mexico, Dia de Muertos, or Day of the Dead. These things are related to the passing of the old year into the new that comes in the Celtic tradition with Samhain, the precursor to our modern day celebration of Halloween. What begins with Halloween continues all the way to Martinmas, the 11th of November: Hollantide, Hallowtide: All Hallows and All Souls. Those orange and purple lights we strung tonight will illuminate all of these autumnal nights. The fabric of them all is woven of light and dark, of life and death.
Death is a natural part of life, of course, and I've said it before and I'll probably say it over and over again for as long as I write this blog: the Convivio Book of Days is no sappy saccharine book about seasonal traditions. It is a book that acknowledges that there is a seat for death at our table, at every celebration, every ceremony, for it is death's presence that encourages us to live each day. And the ceremony of a day is what this book of days is all about.
And with I Morti and Dia de Muertos, these Days of the Dead, we approach a celebration that honors death and celebrates those who have come and gone. I know more than a few people who do not want anything to do with a holiday like Dia de Muertos. It's too creepy, too spooky. But I think they are missing the point of the celebration… and are the poorer for it. Dia de Muertos is not a spooky and creepy time. It is, rather, a time to remember the ones we love but are no longer with us, those who have left this world for distant shores. They do live on in our hearts and in our memory and sometimes in our dreams and who knows where else they live on, but surely they do in some way. And at this time of year, especially, we are reunited with them, one way or another. No culture does this quite so beautifully and as fervently as they do in Mexico. The short film above by Harbers Studios does a lovely job of showing just what Dia de Muertos is all about.
My family is not Mexican; we are of Italian descent. But we have adopted this celebration to some extent and I encourage you to do so in your home, as well. There are many things you can do to take part: You can visit the dead. You can make a feast and celebrate with others (that's our usual!). In the coming days I will post a recipe for Pan de Muertos, bread of the dead: just as we bake ours each Day of the Dead, so might you. And while it's not usually my goal to get you to buy things, Dia de Muertos is one of the true specialties of our Convivio Book of Days Catalog. We sell only REAL and authentic traditional handicrafts from San Miguel de Allende, in Mexico. Nothing made in China. This supports the local artisans, many of whom are making things that their ancestors before them made, too. We think this is the best way to shop, supporting the traditional ways of artisans who feel a connection through time to the things they make. We also have a new shipping policy: Spend $50 and we'll ship your order at no cost to you. Beautiful words those are: Free Shipping! If they can help you to celebrate these special days and nights with more meaning, all the better.
You can also come see us and shop our entire Dia de Muertos line from San Miguel de Allende at the Autumn Makers Marketplace this Saturday, October 22, from 10 AM to 4 PM at Florida Atlantic University in Boca Raton. Look for the blue and white MAKERS MARKETPLACE signs that will be posted on campus roads. If you do come, be sure to say hello. I love meeting and chatting with Convivio Book of Days readers!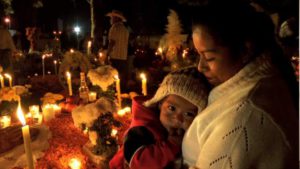 The short film in today's chapter is titled Dia de los Muertos, produced in 2011 by Harbers Studios, available on Vimeo. The film description reads, "Every November, towns and cemeteries across Mexico are transformed with flowers, food and festivities, as people celebrate Dia de Muertos, or Day of the Dead. This evocative short film shows us how one culture honors relatives and friends who have died, and reminds us that though our own loved ones may be gone, they needn't be forgotten." Amen.