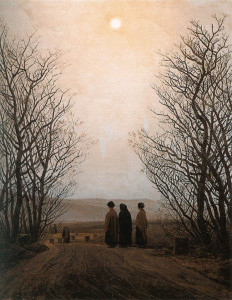 April has begun. It begins, of course, with All Fools' Day, April Fools. There is an old Welsh saying: If every fool wore a crown, we should all be kings. The tricks and practical jokes traditionally end at noon, but not everyone understands this and so I think it's a good day to remain generally wary and on guard. The origins of this day are tough to pin down. There is a Norse god named Loki whose feast day is today, and Loki happens to be a trickster god. So that could be it. But there also is the fact that March 25 was once New Year's Day, making the First of April the Octave of New Year and the end of the new year revels, and it is thought that perhaps the foolishness of the date goes back to very old new year customs.
Being the First of the month, it's also time for the April edition of the ongoing Convivio Book of Days calendar. We offer it to you as a printable PDF. The calendar makes a fine companion to this blog. Enjoy it with our compliments.
This year, what begins as All Fools' Day ends as Holy Thursday, or Maundy Thursday, the night when we are invited to visit churches that will remain unlocked all night long, welcoming portals inviting us to be present with Jesus in his hours of tribulation as Good Friday approaches. Like last year, though, we will remain home, but typically it is a night when we visit three churches, as my grandmother Assunta taught us, though some people visit seven. I love this night, typically. It is such a bridge for me across time and space with the ones I love and the ones I miss, as I sit in the close and holy darkness of these quiet churches, meditating, praying, simply being. The moon is always present as I journey from church to church, a constant companion. This year, perhaps, a simple fire in the back yard may be the most appropriate way to mark the night. The moon will still be present, and where two or three are gathered… well, you know the story. But here ends the Lenten season, and here begins the Easter or Paschal Triduum: Holy Thursday, Good Friday, and Holy Saturday: the Last Supper, the Passion, and the Resurrection through the Easter Vigil on Saturday night.
There is much more to read about these closing days of this week known as Holy Week, and you may do so in the previous chapter of this blog. (Just click "Previous Post" when you get to the bottom of this one, or click here.) Cover star for this month's Convivio Book of Days calendar is a painting called "Easter Morning," by Caspar David Friedrich, from 1833. The trees have yet to leaf out in this painting, but by the end of this month certainly the rivers will be a'running and the vernal push will be rising through sap from root to bud as trees erupt in new green leaves. And sometimes we need a reminder like this: of how so much wonder can happen over the course of a month.
Image: "Easter Morning" by Caspar David Friedrich, oil on canvas, 1833, [Public domain], via WikiPaintings.