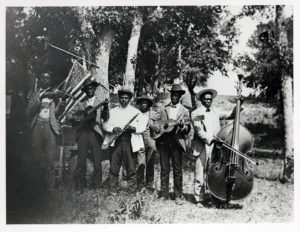 There was a movement a few years back to make Juneteenth a national holiday, but it hasn't happened yet. It is a public holiday in Texas, where this holiday has its origins: the day was first celebrated there in 1865. The Civil War was over; Robert E. Lee had surrendered to Ulysses S. Grant at Appomatox Courthouse in Virginia on April 9, 1865. But things were not resolved throughout the land that day. It took a long while for Union forces to bring all the states that had seceded back into the fold. In Texas, this process began more than two months later, on the 18th of June. Union troops arrived on Galveston Island and the next day, June 19, 1865, Union General Gordon Granger read a proclamation from a Galveston balcony:
The people of Texas are informed that, in accordance with a proclamation from the Executive of the United States, all slaves are free. This involves an absolute equality of personal rights and rights of property between former masters and slaves, and the connection heretofore existing between them becomes that between employer and hired labor. The freedmen are advised to remain quietly at their present homes and work for wages. They are informed that they will not be allowed to collect at military posts and that they will not be supported in idleness either there or elsewhere.
This is what Juneteenth is all about. It became a celebration of hard-earned freedoms, and a celebration of African-American culture. A day for family and friends to gather. The road has not been an easy one, and so it is as well a day to reassure each other against adversity and challenge. The fact that the road is still being forged is all too evident these days, as we continue to work through our troubled history and find paths forward, paths toward complete equality.
One thing I love about Juneteenth is that I get to remember each year that the word is a portmanteau of the words June and nineteenth. The English major in me gets really excited about a holiday in which I get to use the word portmanteau. It's such an exquisite word, no? The day is also known, perhaps more properly, as Freedom Day or Emancipation Day. The earliest Juneteenth celebrations brought folks out in their finest clothes for parades and barbecue and music, like the Emancipation Day Celebration Band in the photograph above, from a Juneteenth celebration in Texas in 1900. But when you get right down to it, Juneteenth is a celebration of freedom, pure and simple. Each year on Juneteenth I am reminded not just of the word portmanteau, but most especially that we should never become complacent about our liberties and our freedoms. We realize there are times in our history when this importance has particular resonance. Join me in celebrating today.
Image: "Emancipation Day Celebration Band, June 19, 1900, Texas USA" by Mrs. Charles Stephenson (Grace Murray). Photograph, 1900 [Public domain] via Wikimedia Commons.