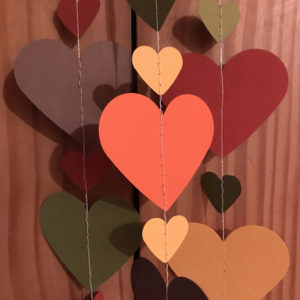 The 8th of February and here, finally, comes your Convivio Book of Days calendar for the month! It is, as usual, a PDF document, printable on standard US Letter size paper. Half the red letter days of the month have already passed, I'm afraid, and what's next is Valentine's Day… and just so you know, we have so many delightfully odd Valentine gift ideas for you in our Convivio Book of Days Catalog. If you see something you like, order today or this weekend and you'll have it in time for the big day. We ship via US Priority Mail, which takes two days to most destinations in the States. Spend $50 and we'll even pay your shipping on domestic orders.
All that being said, you have my apologies for the belatedness. It's been busy as all get out, mostly with things at work––markets, workshops, gallery concerts––and admittedly all things of my own doing. As a result, not only is the month's calendar late, but I've also missed writing to you about St. Blaise's Day, when throats are blessed, and St. Agatha's Day, when we eat cream filled pastries that make us blush a bit, for they are meant to evoke a certain aspect of the female anatomy and it is hard to see them and to eat them, remembering that it was the chaste nuns of Sicily who first began making these delicacies centuries ago. And I missed writing to you about the Year of the Pig, this new year in the Chinese Lunar New Year cycle, although last night we celebrated––my mom and sister and Seth and me––at the beckoning of Joy, of Joy Noodles in West Palm Beach. We had her New Year dumplings and I had a pork soup that was Joy's grandmother's recipe, and we finished our meal with custard buns made of rice flour that looked like round little pigs. All this and yet February is not one of my favorite months. I have a lot to learn, I think, if I am to come to love it again. I keep busy busy busy and yet in the back of my mind I remember things like the 7th was the night two years ago that Seth and I sat in a box at the Kravis Center with friends listening to Rachmaninoff and Berlioz, even though my thoughts were elsewhere, with my dad in his hospital room. It was the night I first thought that maybe he would not make it through this ordeal. And today, the 8th, I will have to keep thoughts at bay that remind me that this is the night two years ago that I last spoke to him; the night we all kissed him goodnight and told him we loved him, and who knew then that that would be our last time to say these things?
I look back and I'm glad we did say them. We are not, by and large, a family that does. We are mostly loud (not me, so much… but these are my people) and a bit rough around the edges and not terribly emotional, at least not in obvious ways. We express our emotions through the kitchen and the table and we yell across the house at each other, just in conversation, and we often sound mad even when we are not. I would most likely never tell my family that I am thinking the things I think––keeping track in my mind of where I was on this date or another in Dad's journey––but they'll read it here, of course, and they, I imagine, will understand. I don't need to tell them these things face to face. They know I ponder things a lot and turn thoughts over in my head and that I don't talk much. Still, they love me as I am. They understand me, and I understand them. We are a terribly loyal bunch. We all miss Dad a lot. And we all continue doing what we do as best we can. This is what this time of year brings for me, and for them, too, I know, and perhaps for some of you, as well, for your own reasons––for the people that you miss, too. Which is all amazingly ok. We always have been and always will be well.
The cut and sewn paper hearts illustrating this month's Convivio Book of Days calendar are by Merike Van Zanten.