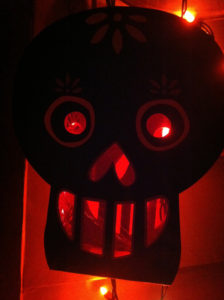 Día de Muertos
In other places we stumble
upon the grounds
where we bury our dead.
I am thinking, for instance, of Pine Level
where the magnolia blooms were bigger
than our hands; we read
the stones, touched them, talked of what it is
to die, our hands beneath our heads, the sky
pressed close before our faces.
I've pulled the guitar from the closet.
There are candies on the ofrenda in the hallway,
and black cloth, a crucifix, cut paper,
and here: your favorite scent of candle, nutmeg,
the sugar calaveras, dancing
skeletons, bread to eat,
and photographs.
I felt lost each time we opened
the ground. Parts of me
kept falling in, covered with dirt
and flowers. But today we'll dance won't we
esto día we'll dance amidst skeletons shaking
animated bones, the wooden floor, the hats
and women in skirts spinning
green spinning red blue and orange, music
and laughter: such human sounds.
What is it to die? We could think
of nothing, and maybe it is
But to live, my God
Love, I said
Create
Continue what was begun
I will dance with you
drink bone punch
We will laugh today like when you
could not catch your breath
We'll sweep the floor with your skirt,
keep time with the violins and guitars.
So the poem: I wrote that, oh, a few years ago. The video? Some excellent student work from the Ringling College of Art and Design in Sarasota. It's Día de Muertos today, Day of the Dead. Tonight we'd do well to light candles, play festive music, and dance with those we love who return to visit. Have a wonderful time, even if the celebration is just kept in a small corner of your heart. And if you're here in lovely Lake Worth this Saturday evening, come see us at our town's Día de Muertos celebration. Seth and I will be there with all of our traditional Day of the Dead handicrafts from San Miguel de Allende, Mexico. You can also expect festive music (mariachi and marimbas!), dancing, food, fun for kids, a vintage auto show, and a Day of the Dead procession. It's all at the Armory Art Annex, which is the old Lake Worth Shuffleboard Courts building. Inside the gallery, beautiful altars. Outside in the courtyard is where everything else will be. Word has it there'll be Mexican hot chocolate, too!
It's on Saturday from 5 to 9 PM at the Armory Annex, 1121 Lucerne Avenue here in Downtown Lake Worth, just west of Dixie Highway (in between Lake Avenue and Lucerne Avenue). Be sure you stop by and say hola to us. ¡Felix Día de Muertos!