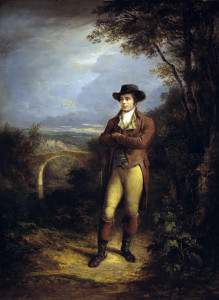 Robert Burns, the national bard of Scotland, was born on the 25th of January, 1759. Burns died in 1796, and not long after that, a group of his close friends organized the first Burns Night celebration on the bard's birthday. It's not unlike a custom that I rather like and have tried to hold in my family: celebrating the birthdays of those who have passed, even though they are no longer with us physically. I first read about this in a book titled Having Our Say: The Delany Sisters' First One Hundred Years, written by Sadie and Bessie Delany in 1993. It's a custom that was kept in their family, and, at least in the case of Robert Burns, it's a custom kept by an entire nation each 25th of January. Any why not? Remembering those who came before us is, I think, a wonderful thing.
The custom in Scotland (and indeed for people all over the world who love Robbie Burns) is to prepare a Burns Supper on this night. Here is the traditional menu for a proper Burns Supper: haggis served with mashed neeps and tatties, together with a wee dram of whisky accompanied by the recitation of plenty of Burns' poetry. The "neeps and tatties" are rutabagas and potatoes––two of my favorite things. The haggis is something I've not quite built the gumption to try, and I'm going to leave it to you to look up so I don't have to describe it. I am not a vegetarian but I do lean a bit that way… and haggis, well… it's a bit too meaty for my tastes. Let's just say not much goes to waste when making haggis, which, I suppose, is a good thing… plus Robbie Burns was all for haggis and in fact wrote a poem in honor of this great Scottish dish. Be that as it may, I'd probably pass on the haggis myself. I am, however, all for wee drams of whisky and good poetry. As for the poetry of Robert Burns for your Burns Night Supper, a good place to begin may be with the "Selkirk Grace," an old suppertime grace that Mr. Burns made a bit more Scottish through the addition of the Scots dialect.
Some hae meat and canna eat,
And some wad eat that want it;
But we hae meat, and we can eat,
Sae let the Lord be thankit.
It may take some time for a non-Highlander to become accustomed to the dialect of Robert Burns' poems, but it comes with practice (and perhaps more wee drams of whisky). If you know a piper, you'll want to invite him to your Burns Supper, and you should encourage him to wear his kilt. In the absence of a piper, you could include any recorded traditional music of Scotland. The table linens should be tartan. And there should plenty of poetry read aloud. And in closing the night, you should gather together, be you one or two or twenty-two, to sing Mr. Burns' most famous song and poem, "Auld Lang Syne." We sang it at New Year's and we sing it at Burns Night, two holidays both sacred and dear to Scotland, and so with it we open and close the month.
Should auld acquaintance be forgot,
and never brought to mind?
Should auld acquaintance be forgot,
and auld lang syne?
CHORUS:
For auld lang syne, my jo,
for auld lang syne,
we'll tak a cup o' kindness yet,
for auld lang syne.
And surely ye'll be your pint-stowp!
and surely I'll be mine!
And we'll tak a cup o' kindness yet,
for auld lang syne.
CHORUS
We twa hae run about the braes,
and pu'd the gowans fine;
But we've wander'd mony a weary fit,
sin auld lang syne.
CHORUS
We twa hae paidl'd i' the burn,
frae morning sun till dine;
But seas between us braid hae roar'd
sin auld lang syne.
CHORUS
And there's a hand, my trusty fiere!
and gie's a hand o' thine!
And we'll tak a right gude-willy waught,
for auld lang syne.
CHORUS
The words "auld lang syne" translate essentially to old long since, or old times. The song is one about remembering. And it is right, it is good, to spend some time remembering. Tonight, we remember Robert Burns and we remember those who love him. He was a sentimental poet, Robert Burns, and we need this on occasion. We need the laughter and the tears that come with remembering. A wee dram of whisky and an old song with friends: this is a good way to remember and to warm a cold winter's night.
Image: "Robert Burns" by Alexander Nasmyth. Oil on panel, 1828, Edinburgh: Scottish National Gallery. [Public domain] via Wikimedia Commons.