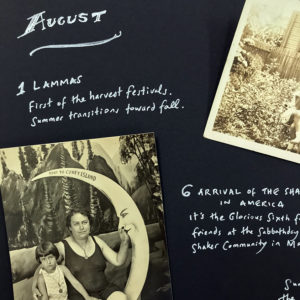 You'd think I've been on summer vacation, what with your Convivio Book of Days calendar for August coming so late, but no. Life has just been hectic, nonstop, go go go, which is not the way August is supposed to be. August is supposed to be sandwiches at the picnic table out back and trips here and there, big trips or maybe just little excursions. And so that's the August we're giving you this month on the calendar. Cover stars include my mom, Millie, and my Aunt Anne, when they were little girls. The year is 1930 or so and they are sitting in the backyard with Grandma, eating sandwiches, just as August beckons us to do.
It is the month of Lammas, which has passed, but still to come are Obon, the traditional summer holiday of Japan, which in some prefectures comes in July and in others in August, but I have always been more of an August Obon kind of guy, for that is the time we celebrated it here (though even that has changed). And still to come as well is Ferragosto, the holiday of Italy that comes with the Feast of the Assumption of the Virgin Mary, the Fifteenth of August. It is the day that same grandma of mine was born, back in 1898. Each year for the Assumption we would eat the traditional cucuzza longa, the odd long squash that actually is a gourd. So far this month I've had no luck finding it in the markets but my hopes are high, for there are still a good many days to go before the 15th.
And later this month, the Bartlemas Wayzgoose, a day of great importance to all of us book artists. Whether we be papermakers, letterpress printers, or bookbinders, St. Bartholomew is relevant to us all, and so his feast day is one we have been known to honor and honor well. Locally, here in South Florida, the place to do this this year is at the Jaffe Center for Book Arts in Boca Raton, at Florida Atlantic University's Wimberly Library. We'll be part of the big Library Wayzgoose Festival that is taking place there on Saturday, August 25, from 10:30 to 5:30. One of my favorite printers, Ben Blount from Evanston, Illinois, will be featured with print shop demos and a gallery talk, and there will be live music all day (I know, libraries are supposed to be quiet… but not on Wayzgoose day) and we'll be making printers caps from paper and there will be games and fresh baked artisan breads for sale from Louie Bossi's in support of the Jaffe, and the works of about 20 local makers and small creative companies like ours will be on display, too, for your small-shopping pleasure. It's going to be a lot of fun, which is only natural: "Wayzgoose" is a fun word to say, so what else would it be but fun? The St. Bartholomew's Day Wayzgoose connection to book artists goes back many centuries… something I'll certainly tell you about on the blog later this month. For now, get out there and enjoy what's left of summer. It won't be long before we start thinking thoughts suited to cooler months.