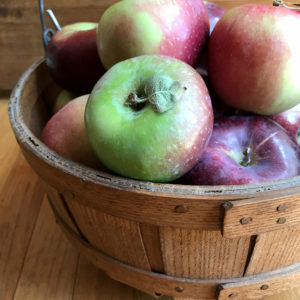 In Maine, where autumn is quick to arrive, the apples are just beginning to come in. The apples above and the basket that holds them are both from the same place: Thompson's Orchards in New Gloucester, Maine. The apples were picked just two days ago; the basket made two decades prior by Herb Thompson, who ran the orchard back then. Now his sons do. The basket is one of our simple treasures, and it is the cover star of your Convivio Book of Days calendar for September. The calendar is our monthly gift to you, printable on standard US Letter size paper, a nice companion to the blog.
The month begins this year with Labor Day, which will make this a long holiday weekend. It is generally considered summer's last hurrah here in the US, but it is, more officially, an annual celebration of the American worker, upon whose labor this great nation is built. I may take the weekend off myself from writing, so perhaps you won't hear from me until later in the month: maybe for the day honoring Our Lady of the Grape Harvest, or for Rosh Hashanah, or for Johnny Appleseed's birthday, or certainly for Michaelmas. You never know, as I write these things by the seat of pants usually, very often late in the night on the eve before each holiday. It is a month of balance and perhaps we (I) could use a bit of that ourselves: the next equinox arrives, bringing autumn by the almanac to the Northern Hemisphere. But by month's end, night will be just slightly longer than day. The wheel of the year is always turning, like a great clockwork.
Did you know I write another little something called The Convivio Dispatch? The Dispatches are tales from my town of Lake Worth, Florida, a project much older than the Convivio Book of Days. It is not a book and not a blog but rather the Dispatches from Lake Worth arrive in your inbox as plain text emails. Nothing fancy (again, simple). They are sometimes monthly and they are sometimes few and far between, but the first dispatch in months went out late last night. Dispatch subscribers get the annual ghost story for Halloween, for instance. Interested? Send me an email to subscribe: mail@conviviobookworks.com. (How simple is that?)
Oh and I find my life very often comes with an accompanying soundtrack. Does yours, too? Placing all these apples with care into this basket we love so much, well… this song came to mind.
It's Jane Siberry, circa 1985, walking down a road with a very pregnant cow named Buttercup. The video was directed by Gerald Casale of Devo fame. Jane told us when she was here that the photo for the single was shot right here on the beach in Boca Raton. Small world.
Have a wonderful month.
John