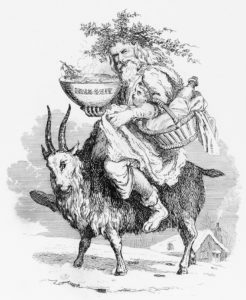 So go the lines from an old Christmas pantomime known as "The Christmas Play of Saint George." It's been presented in Cornwall and throughout England since no one knows when––time immemorial––one of those things passed down through the centuries, but when Father Christmas enters the scene, his lines are always the same. Do you know them?
Here come I, Old Father Christmas
Welcome, or welcome not.
I hope Old Father Christmas
Will never be forgot.
And so he is here with us again. He arrived on Christmas Eve and stays with us through Christmas Day and brings with him the Twelve Days of Christmas that follow, days that stand outside ordinary time. Half in the old year and half in the new, these are days more magical and celebratory than others, if we give them their due. We will, and I hope you will, too. As I mentioned in my previous post, rather than post each day through Christmastide this year, we're going to take a different tact. I'm thinking three posts over the course of the season, the first being this one: an introduction, of sorts. Expect the second tomorrow. It will deal with the remaining Days of Christmas in the old year. The third will come around New Year's Eve or so and will deal with the six Days of Christmas in the new year.
We should start first off with a disclaimer: There is more than one way to count these Twelve Days of Christmas, which should not surprise you, for as traditions grow, the approach to those traditions grow in different ways for different peoples. The approach we like best in this house, though, is the tradition that has the Twelve Days beginning only once Christmas Day itself has passed. Mainly we love the logic of it. Counting the Twelve Days this way gives us six days in the old year, six days in the new… and our ancestors loved this kind of magic that comes with numerical balance––in this case a balanced bridge that leads us out of one year and into a new one. And so, being the sort of person who likes to be open to magic, to the "alchemy of the everyday," as Jane Siberry calls it, this is the logic that we follow here, as well.
And here we enter the time when we in this home get to baking cookies, for instance, and reading Christmas books and watching Christmas movies. Christmas music plays through our home. All the things we had no time for in the mad rush toward Christmas, now are open to us, and we take the time to enjoy them. I have a few recommendations about these days:
Stock up on chestnuts. We'll be roasting them almost nightly here. To roast, cut a small cross in the flat part of each nut, put the nuts in the freezer for 10 minutes, then roast in a 325ºF oven for about 40 minutes or so. We like when the roasting results in a little dark roasty spot on each nut. Peel and eat! We generally figure on five or six chestnuts per person.
Stock up on mulling spices for mulled wine and mulled cider. We sell some pretty wonderful mulling spices from the Sabbathday Lake Shakers. We can get them to you in a couple of days thanks to US Priority Mail. Spend $50 and your order ships free; otherwise, it's a flat rate shipping fee of $8.50.
Find you some good music for these days. We recommend any of the Christmas music by the Boston Camerata, by Jane Siberry, by Gaelynn Lea, by the Christmas Revels. Much of the Christmas music we listen to in this house is music that you could imagine listening to any time of year (although we don't). It's got a different, timeless quality than the stuff you've been exposed to in other places. Trust me. This ain't no "Jingle Bells" and "Santa Baby."
Most importantly, follow what's in your heart. Celebrating the Twelve Days of Christmas puts you in a distinctly different place than most of the world around you. You'll have to endure seeing Christmas trees discarded on roadsides and seeing social media postings from folks boasting about how they got all the Christmas stuff put away, sometimes even before New Year's. Avoid the corporate retail world as much as possible; they began Christmas for us months ago, and now that it is here, they've pulled the plug on it and are most likely moving on toward Valentine's Day, even as I type this. Let them do what they want… although you may pick up some Christmastide bargains now!
And so here we go again. The 26th of December also brings the First Day of Kwanzaa, a weeklong celebration of African culture and unity. Kwanzaa began as an African American holiday in 1966 but now is celebrated throughout the world. Perhaps your First Day of Christmas also includes the First Day of Kwanzaa!
FIRST DAY of CHRISTMAS
December 26
St. Stephen's Day, Boxing Day, Day of the Wren
On this First Day of Christmas, Father Christmas brings Boxing Day, celebrated in England and the Commonwealth countries. Servants typically had to work on Christmas Day, but the First Day of Christmas was their day to spend with their families. Their employers would send them home with boxes of gifts for themselves and for the families they were heading home to. Perhaps more important, though, it is St. Stephen's Day. Stephen was the first Christian martyr, and so the Church assigned this first day of Christmas to him. In Italy, Santo Stefano's Day is a big deal. Christmas Day is for family, but Santo Stefano's Day is a day to bundle up and go out to visit friends and to visit nativity scenes. It is a day for roasted chestnuts and mulled wine (as is tomorrow, St. John's Day: the Second Day of Christmas). My Aunt Anne and my mom say that my grandmother, Assunta, typically made soup for supper on this First Day of Christmas, when we remember Santo Stefano. The soup was a nice break from the rich fare of Christmas Eve and Christmas Day. Over in Ireland, it is the Day of the Wren. It is the wren that is traditionally thought to have brought bad luck upon the imprisoned Stephen, who was making his escape when a wren alerted the sleeping guards to the situation. His capture lead to his execution and martyrdom. Wrens were traditionally hunted on this First Day of Christmas, then paraded around town.
If Christmas Day left you feeling a bit down––perhaps it was far from perfect, perhaps you were missing someone, perhaps there was family tension… whatever the reason: if Christmas Day felt not right, St. Stephen's Day, this First Day of Christmas, offers a chance to make things right, or at least a little better. It's a chance that continues throughout this Christmastide. We have twelve fine days to make Christmas all we wished it to be. We wish you peace and glad tidings!
"Old Christmas Riding a Yule Goat" by Robert Seymour. Engraving for The Book of Christmas by Thomas Kibble Hervey, 1836 [Public domain] via Wikimedia Commons. Here Father Christmas, crowned in holly, enters bearing a steaming wassail punch and a basket of good things to eat and drink. He brings as well the new year, represented by the toddler in his lap.