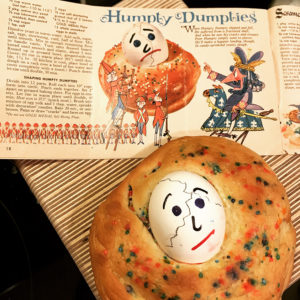 Here is March, brought in by St. David's Day each year, sacred to Wales. Here, too, is the March edition of your Convivio Book of Days Calendar, our monthly gift to you, a nice companion to the blog. It's a printable PDF on standard US letter size paper. Cover star this month: one of the Humpty Dumpties we make each Easter at home. The recipe comes from a booklet that came with Gold Medal flour back in the 60s. Mom thought back then they would be a nice addition to our Easter celebration, and we've been making them ever since. The dough is sweet, yeasty, and lemony; I draw the faces each year. My mom and sister and I will no doubt be making them this year one day during Holy Week, at the end of the month, in the days before Easter. You can make them, too; just follow the recipe in the photograph (click on the photo to make it larger).
Today, though, is St. David's Day, a fine day to bake Welsh Cakes. More on that later. Dydd Gŵyl Dewi Hapus is the St. David's Day greeting in Welsh, but in English, a simple "Happy St. David's Day" will do. In Wales, it is a day of national pride and national celebration, similar to St. Patrick's Day in Ireland. It is a day of leeks and daffodils. Both are similar in name in Welsh, and of course it is springtime, so the daffodils by now perhaps are blooming beautifully. As for the leeks, this goes back to ancient battle in Wales in which St. David himself is said to have advised the Welsh troops to wear leeks in their caps in order to distinguish themselves from the Saxon troops they were fighting. The leek has since become a symbol of Welsh national pride.
This animosity between the Celtic Welsh and the Saxon-descended English went on for some time. I'm not sure if bakers in England are still making gingerbread taffies for St. David's Day, but it was a long standing tradition to make these cookies in mockery of the day. The taffies depicted a Welshman riding a goat. There is an old story, as well, of a man on horseback in the north of Wales who comes to a river that he wishes to cross. There was a man working the field nearby, so he asked, in English, if it was safe to cross the river and the laborer replied, in English, that it was indeed. The horse, however, knew better, and refused to pass into the river. So the man upon the horse asked the laborer once again if it was safe to cross the river, this time in Welsh. "Oh, I beg your pardon, sir," said the man on the ground. "I thought you were an Englishman."
And so the English made their gingerbread taffies, and hung effigies of Welshmen for St. David's Day, while in Wales, the folks celebrated in kinder ways, still to this day, with parades and the wearing of national costumes and of course leeks and daffodils. And perhaps the baking of those Welsh Cakes I mentioned earlier. Here's a recipe for Welsh Cakes from the folks at King Arthur Flour; the one suggestion I might make is that Welsh Cakes often have a scalloped edge, so if you are making them and if you happen to have a scalloped biscuit cutter on hand, you might want to use that one instead of a plain circle. You might serve them with butter or, for a more savory treat, with cheese and leeks.
I love leeks and I love Wales, though I've never been there. But I have seen pictures and it looks so utterly beautiful there, and I have heard the language in word and song, and I love the poetry of Dylan Thomas, and the books of Gregynog Press, or Gwasg Gregynog as it's called there, and while I don't have a bit of Welsh anything in me, I have long been enthralled by the place. And so Happy St. David's Day: Dydd Gŵyl Dewi Hapus!
Seth and I will soon be adding some new arrivals for Easter to our catalog pages: new pysanky eggs from Poland and Ukraine and new paper Easter eggs from Germany to fill with goodies. Everything handmade by traditional artisans. Check back soon at conviviocatalog.conviviobookworks.com!