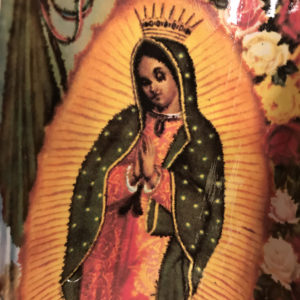 December 12 brings the Feast of Our Lady of Guadalupe, sacred to all the Americas but especially to Mexico. The story begins in 1531 with Juan Diego, who was just a regular guy in Mexico. He saw an apparition of a woman on a hill near Mexico City, and she asked him to build a church in her honor there on the hill. She spoke to him in his native Nahuatl language and he recognized her, by the things she told him, as the Virgin Mary.
The iconic image of Our Lady of Guadalupe that we know so well miraculously appeared inside Juan Diego's cloak on the 12th of December, 1531: on one of his visits to the hill, Mary told Juan Diego to go to the barren top of the hill, but when he got there, he found it not at all barren but awash with blooming roses. He and Mary gathered the roses and she arranged them inside his cloak. And on this, her feast day, Juan Diego opened his cloak before the bishop of Mexico City. When he did, the flowers all fell to the floor, revealing the image of the Virgin of Guadalupe. The bishop took it as a sign. The church was built, and the image from Juan Diego's cloak, or tilma, hangs still inside the Basilica of Our Lady of Guadalupe on Tepeyac Hill, Mexico City.
The image on the tilma is considered miraculous by church doctrine, for many reasons. Some are more fascinating than others. My favorite has to do with the stars on Mary's cloak: they appear only on her cloak; not on her tunic. But, if we superimpose the image from the tilma on an image of the stars in the heavens as they appeared on the 12th of December, 1531, they are said to correspond exactly with the constellations that day, and if her tunic and the rest of the image was filled with stars, too, they would complete the picture and on Mary's head would be the constellation Corona Borealis: Northern Crown. Queen of Heaven? Perhaps. What is certain is that this is a day of festivity throughout Mexico and Latin America. And then tomorrow will bring the Feast of Santa Lucia, another midwinter gift bearer and a light in the darkness. If you have a Swedish bakery nearby, go look for Lussekatter––saffron buns in the shape of an S… they're made especially for Sankta Lucia's Night!
Image: Our artisan friends in San Miguel de Allende love Our Lady of Guadalupe and use her image on many of the things they make, including this painted tin tea light holder that we just began selling this fall.