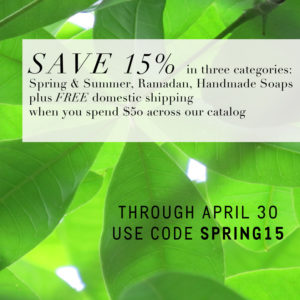 It's pretty rare Convivio Bookworks runs a sale, but we won't be popping up this spring at pop-up markets, and here we are with all these wonderful Ukrainian pysanky eggs that just arrived, and all those beautiful handmade sturdy paper egg containers from Germany (great places to stash your jelly beans and malted eggs). We also have cards you're not likely to find elsewhere for Ramadan, and there's a brand new Swedish maypole decoration for Midsummer, and these fine handmade artisan goods are not going to do anyone any good sitting in our little house 'til next year. So we're giving you 15% everything in our Spring & Summer collection, 15% off all of our Ramadan cards from Manal Aman of Hello Holy Days! fame, and while we're at it, since soap is so important right now, 15% off all of our handmade soaps from local soap maker Kelly Sullivan and from Brother Andrew at the Sabbathday Lake Shaker Community in Maine (as well as their delightful new culinary lavender that's in a brown paper bag tied up with string).
Click here to get to the Convivio Book of Days Catalog; use code SPRING15 when you check out. Plus we'll give you FREE SHIPPING on domestic orders when you spend $50. (And our flat rate shipping is only $8.50 if you don't spend $50.) We ship Priority Mail so you'll have your order in time for Easter. If you're in Lake Worth Beach, let us know and we'll deliver your order to your front porch for free no matter how much you spend (we'll deduct the shipping charge if you spend less than $50).
Your orders support what may just be the smallest company on the planet, as well as all the artisans we buy from… most of them are folks we know by name. That support is greatly appreciated at times like this, so thank you.