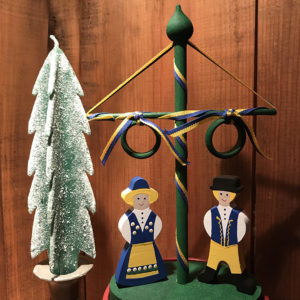 Here is the sixth month of the year, June. Late in the month comes the midsummer solstice in the Northern Hemisphere: the longest day of our year, the day with the most sunlight. This is an important time in places like Sweden, where, near the Arctic Circle, the sun will be above the horizon for most of the day––the other side of the coin from midwinter in December. Seth's cousin married a Swede; when she got to the States, this may be what she missed most from her homeland: the celebration of Midsommar around St. John's Day, the 24th of June. All these years later, perhaps Ulrika still misses this each June.
Be that as it may, here is your Convivio Book of Days Calendar for June. We rarely use Convivio Bookworks products as cover stars in our calendars, but this month we did. Our photo this month is of the little tableau we've created in the corner cupboard in our kitchen. It features a pine tree candle and the new midsummer ornament we sell in our Convivio by Mail catalog. It's handmade in Sweden of painted wood and ribbon.
I hope you're doing well enough as we come to welcome summer. The times are challenging, this is for sure. Lake Worth has become a hot spot for new Covid-19 cases in the past week or two, but Seth and I: we go nowhere, really. The governor says it's fine to be out and about, but we're not paying attention to politicians in general these days. These same politicians are also not helping things much in that our country is suffering not just from a new virus but from a much older disease, one that goes back to its history of being built on a foundation of slavery. A century and a half later, we still can't shake the inequality that is its legacy; it only grows worse. As much as I like to close each Convivio Book of Days post with something positive and uplifting, for the time being, I don't think I can. The people in charge are divisive, concerned only with casting blame, which gets us nowhere. Violence, I feel, is never a good idea, and yet I see that the people who want to affect change find themselves cast as thugs, or undermining American ideals, even if they take a peaceful approach. What are American ideals? Equality, I think. And being able to live our lives without fear. These are the basics, and yet an entire segment of Americans do not have these luxuries.
Join me if you can each Wednesday at 3 PM Eastern time for a live, unscripted broadcast on our Facebook page of Book Arts 101: Home Edition––a weekly ramble through the book arts, craft, design, and whatever else drifts through my head. You can watch later (again, at our Convivio Bookworks Facebook page) should you not be able to watch at 3.