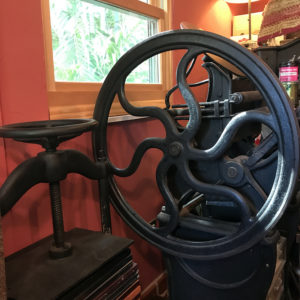 This month, we're giving you a little glimpse into the Convivio Bookworks printshop––the heart of Convivio Bookworks. The presses, the movable type: letterpress and books are the core aspects of our business, and we're celebrating them in this month's Convivio Book of Days calendar. For in the wheel of the year, come late summer, one of August's traditional celebrations is the Bartlemas Wayzgoose. It comes each August 24th with St. Bartholomew's Day: a bittersweet day, reminding us of summer's waning, for it is a celebration influenced entirely by the sun. Come Bartlemas each August, printers in England would begin bringing lanterns back into the printshop, as the sun alone no longer provided enough light. As sunlight wanes, so does the summer season.
Ah but that celebration comes on the 24th, and I will send you an invitation to our online Library Wayzgoose Festival at the Jaffe Center for Book Arts. Save the date, in fact: Monday August 24 at 7 PM Eastern Daylight Time. We'll be posting a link on Vimeo and on Facebook, where Convivio Bookworks will be hosting a watch party. And if you can't make it then, worry not, the video will be available afterwards, too, anytime, from wherever you are. We may not be able this year to gather together for the Library Wayzgoose Festival, but the good news is this year you can join us from anywhere.
As August begins, though, it's time for another old celebration: Lammas. It is a cross quarter celebration, an old festival of the first harvest, also based in that same idea that summer is ripening, slowly giving way to fall. The Celts called the day Lughnasadh (LOO-na-sa). We find ourselves now at the midpoint between the midsummer solstice of June and the autumnal equinox of September. A freshly baked loaf of bread is a traditional part of the celebration. Indeed, the name Lammas descends from the Old English hlafmaesse, or "loaf mass."
This Lammas, we wish you good health, we wish you glad tidings. We have our challenges here in Florida right now. Those of us who feel quarantining is best in the current situation, or who at least see benefits to wearing masks, see no end in sight to our isolation. It's frustrating, and small family businesses like ours are affected disproportionately than corporate businesses. Friends of ours who own small restaurants are afraid to open. For us, pop-up shops are our livelihood, and these are not an option now, and won't be anytime soon––not in a state that sees over 10,000 new cases of Covid-19 each day. But we stay at home and we know others who do, too, and we know that eventually, we will get through this. And, as we always do, we do the best we can. The Library Wayzgoose Festival on the 24th of August is a fine example of this, and I am so excited to share that special event with you. Mark the day. This month's Convivio Book of Days calendar, by the way, is, as usual, a printable PDF document… and a good companion to this blog. See you on the 24th? Good.