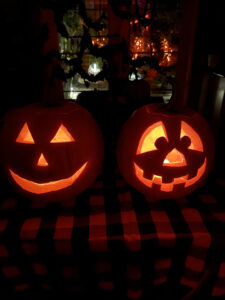 All Hallow's Eve leads us into Hallowtide: All Saints Day on the First of November, All Souls Day on the Second, and all the days beyond to Martinmas on November 11. This is the time each year when we most remember our beloved dead.
I don't know what my earliest recollection of Hallowe'en is, but I know that I have loved it since I was a child, and I have not outgrown that excitement. The understanding, too, that Hallowe'en ushers in a time of remembrance is also something I have long understood, thanks mainly to the observances that were part of this time of year for my family each late autumn. Always on the table at Hallowe'en and Ognissanti is a penitential dessert from Puglia, the region in Italy from which my grandparents hailed. The dish, called ciccecútte,  is something we eat just at this time of year, which is probably why we understand, from early on, that it is special. It's made from cooked wheat berries, pomegranate, roasted almonds, and chocolate, covered in vincotto, spiced with cinnamon and cloves. It is a most earthy taste, reminding us of things below, rather than above. It is a dessert that handily calls to mind Persephone's journey below the earth each autumn and winter, a ritual dish one eats to be in communion with all that rests below the earth.
Besides the pumpkins and the cornstalks, the costumes and the masks, this is what I love about Hallowe'en. And so I beg your forgiveness for the fact that I've not even begun your Convivio Book of Days Calendar for November. I'll get it out to you as soon as I can. But it's not today, and it may not be for quite a few days. If the calendar was ready for you, here's what it would say for these first few days of the month:
November 1: All Saints Day (All Hallows)
Hallowe'en ushers in this day honoring all saints. It's also Samhain, the Celtic New Year, bringing us closer to winter.
November 2: All Souls Day; I Morti; Dia de Los Muertos
These old and sacred celebrations keep us connected to those who have left this world.
November 11: Martinmas
The traditional close of this annual time of remembrance.
COME SEE US!
Our next pop-up market is this Saturday, November 5, from 3 to 9 PM: It's the Dia de Los Muertos celebration here in Lake Worth at Hatch 1121, which is at 1121 West Lucerne Avenue. You'll find our ofrenda on display inside Hatch, and we'll be outside showing most all of our handicrafts from Mexico. Next to us will be my mom showing her Millie's Tea Towels: each one is embroidered by hand by Mom. Free entry, live music. This community Day of the Dead celebration is great fun. Sorry, we will not be showing at Florida Day of the Dead in Fort Lauderdale this year.
ADVENT CALENDARS
Now's the time to order Advent calendars and candles! Our calendars are all from Germany; our candles are from Sweden and the UK. Click here to get to our online catalog!
The CONVIVIO DISPATCH for HALLOWE'EN
Folks subscribed to our sister publication, The Convivio Dispatch, which is a more story-focused publication delivered as an email in your inbox, received yesterday our annual Convivio Dispatch for Hallowe'en, which this year was a mystery called "Trembling the Web of Wyrd." As my gift to you, click here to read the tale. If you like it, please consider subscribing. It's free and my dispatches are few and far between, trust me… so there won't be a lot of clutter in your inbox; just an occasional good story.
Image: Our Jack o' Lanterns this Hallowe'en. Seth's is the toothless one.