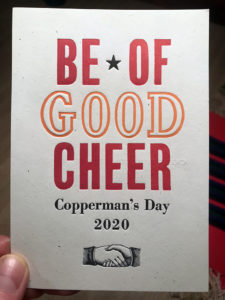 Here it is: Our Copperman's Day print for 2020. We are both slightly late (Copperman's Day was a week ago Monday) and it's also been a while since we last printed one of these annual prints. This time of year can be a little rough on me. My dad had his stroke on MLK, Jr. Day in 2017, and the last Copperman's Day print I made, which was that year, conveyed the words Wes Hel: an older version of Wassail, the old drinking toast that essentially means Be of Good Health. My small way of helping to insure Dad's good health. A year later––a year after Dad's passing––I began setting type for Copperman's Day, 2018. But I didn't quite have it in me to print it. Same in 2019. But here we are today, in January 2020. I worked on Copperman's Day resetting that same type I had begun to set two years ago, finished setting it a day later, and each night after I printed a different color by hand on the Vandercook 4 in our shop. By Friday I was done. I guess you could say this print took three years to make. I like it very much, and I feel like my father approves of it, too, and wants us all to take its advice to heart, and to Be of Good Cheer.
Copperman's Day falls on the Monday after Epiphany each January. It's an old Dutch printer's holiday celebrated mainly by the apprentices, who would have the day off to print whatever they wanted. The resulting prints would be sold for a copper. We sell ours for 300 coppers (3 bucks), but, you know, paper and ink don't cost what they did centuries ago, and a week's worth of labor doesn't cost what it did back then, either. 300 coppers is a real bargain, if you ask me. And we have an additional special running, too: order three or more of any of our letterpress mini prints––all of our Copperman's Day prints to date, our B Mine Valentines, and our famous Keep Lake Worth Quirky prints––and we'll take $5 off your domestic order. This, to help balance out our flat rate $8.50 shipping charge, because even though a flat rate shipping charge of $8.50 is pretty damn good, we know it's not such a bargain if you're buying just a few small flat paper items. If you're doing some Valentine shopping, though, or picking up a few other things, we do, as usual, offer free domestic shipping when you spend $50 or more. (Folks in Canada and Mexico and elsewhere on the planet, write us at mail@conviviobookworks.com and we'll figure something out for you, too.)
Over the course of a week of printing nights, I was accompanied by a sleepy cat always nearby and some pretty wonderful music: Valse de Noël: An Acadian-Cajun Christmas Revels, and Elizabeth Mitchell and friends singing and playing on The Sounding Joy: Christmas Songs In and Out of the Ruth Crawford Seeger Songbook. Copperman's Day is very much an extension of the Yuletide season for me, tied as it is to Epiphany, and for a couple of guys who just decorated their tree on Christmas night, well… we are subscribing this year to the old tradition of keeping the greenery up until Candlemas. Our tree is still glowing on this cold Lake Worth night, and all here remains calm and bright. The cat is asleep on a wool sweater, and here I am, connecting with all of you. We are, most definitely, of good cheer.