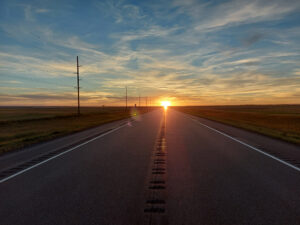 … at least for today. Balance of a celestial sort: this is what we receive today, across the planet, on this day of equinox. Autumnal Equinox here in the Northern Hemisphere; Vernal Equinox in the Southern Hemisphere. The constant rearrange will bring, in the next few passing days, nights that are longer than days to our hemisphere, and days that are longer than nights to the Southern. But for today, all is practically balanced, no matter where we stand. Hence the name equinox, Latin for equal night. It brings a symmetry to our planet, best discerned in roads that run due west and due east. If you have straight east/west roads like this in your town, the scene at sunrise and at sunset today (and for a few days) will be just like that in the photograph above, with the sun rising or setting directly ahead of you, straight as an arrow. This photo was was taken in rural North Dakota, but it is the same everywhere now, for a few days… and this won't happen again until the next equinox in March.
The moment of equinox, when the sun passes over the equator, this year is at 9:03 PM here in Lake Worth, which is currently in Eastern Daylight Time. It happens at the same moment around the globe, adjusted for your time zone. It is the start of autumn by the almanac, or, for those who reckon time in the traditional manner, autumn's height or midpoint. For once that moment passes, the shift sets us more firmly on the path toward winter, as each passing night grows longer and darker on the approach to the Midwinter Solstice in December.
For now, though: balance. A good time for centering ourselves as we prepare to welcome the beauty and abundance of the season.
COME SEE US!
The pop-up market season begins soon! Our first big event is OKTOBERFEST at the American German Club, 5111 Lantana Road, Lake Worth FL 33463. Two consecutive weekends: Friday, Saturday, & Sunday October 7 through 9, then again the following Friday, Saturday, & Sunday, October 14 through 16. Convivio Bookworks will be there in our big new 10′ x 20′ tent, and right next door in a normal size tent, you'll find my mom and sister, selling Mom's hand-embroidered Millie's Tea Towels. You need to purchase tickets in advance for Oktoberfest; it's rare that tickets are still available at the gate. Click here for tickets and more information. It's a wonderful event, and we plan to have our full line of handcrafted artisan goods from Germany there, for all the seasons of the year: not just fall, but spring and Christmas, too.
NEW! AUTUMN SALE
For the next 2 weeks or so at our online store we're offering $10 off your purchase of $85 or more, plus get free domestic shipping. Just use discount code AUTUMN22 at checkout. We're adding new items this time of year almost daily! You'll find new items from Germany for Hallowe'en and Christmas, plus new Advent calendars and candles are coming this week, and we're getting ready for Dia de Los Muertos, too. Lots to see! CLICK HERE to shop!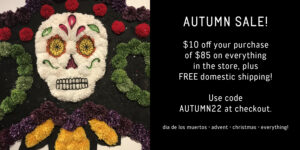 Image: Sunset on North Dakota Highway 5 on the 2021 Autumnal Equinox, near Columbus, North Dakota. Photograph by Masterhatch, Creative Commons license via Wikimedia Commons.