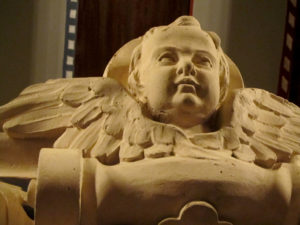 Easter brought in April this year. In my family, Easter is one of those holidays that requires days of preparation followed by a good six or seven hours at the table. It begins with the felatta, a traditional platter of cured meats and cheeses and thick fresh orange slices, baskets of two different kinds of homemade taralli (Grandma Cutrone's and Grandma DeLuca's), pizza rustica––a savory pie of meats and cheeses and eggs, and dishes of fresh local mozzarella and ricotta. There are the hard boiled eggs, brightly colored, and we have egg fights with them to see whose eggs remain uncracked when they are pitted against each other, tip to tip and butt to butt… and so there are lots of eggs to eat, too. This alone goes on for a good hour and change. And this is just the first course.
So forgive me, I didn't get to the April edition of your monthly Convivio Book of Days calendar until today, Easter Monday. Which, yes, is a national holiday in many fine countries (like Italy, France, Germany, Canada, and Iceland), mostly in Europe, Africa, and the Caribbean. I didn't include Easter Monday on the calendar, but you will find a few interesting days, mostly toward the end of the month, as well as a real favorite day for many of you: Våffeldagen, or Waffle Day––a more populist name for the Feast of the Annunciation (known yet again as Lady Day). It's typically on the 25th of March, but in years when the feast falls on Palm Sunday (as it did this year), Palm Sunday takes precedence and Lady Day is moved to the Monday after the Second Sunday of Easter. Which this year happens to be April 9th… so plan now on eating waffles that day.
Your best bet? Print out the April Convivio Book of Days (it's a PDF, after all, designed to be printed on standard US Letter paper), pin it to your bulletin board, and use it as a companion to the blog (and as a good reminder to enjoy waffles on April 9). This month's cover star is rather angelic, and that's a good companion to have, as well. Enjoy.