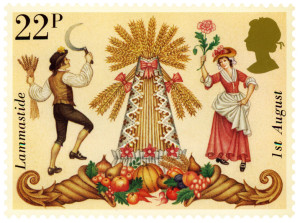 The passing of July when I was a kid was always met with a bit of melancholy. The beach days were numbered. The afternoons playing Italian card games with Grandpa, games like Scopa and Briscola, were numbered, too. Once August rolls around, summer is much changed, for it comes with the knowledge that school is going to start soon.
Early on in our agrarian past we had a day to mark this change. It's a day not much celebrated anymore, though it has value, for it marks the transition as summer begins to make its way toward autumn. It's called Lammas in the English tradition, Lughnasadh (pronounced LOO-na-sa) in the Celtic tradition. It is the first of the harvest festivals, and we celebrate it with fresh baked bread from the first grain harvest of the year and we celebrate it, too, with spirits made from that grain. John Barleycorn is the personification of that grain; he is celebrated in poems and songs. Drinking songs, mostly, to go along with those spirits.
Perhaps because it is such an agrarian holiday, this cross-quarter celebration has fallen out of favor more so than the others of its ilk. Cross-quarter means it marks a halfway point––in this case, the halfway point between summer solstice and autumnal equinox. By traditional reckoning of time, this is the start of autumn, even though the hottest days of summer are perhaps still ahead of us. Certainly that is the case here in Florida, we know this, but I have been in Maine at Lammastide, too, and noticed the sumac trees beginning to turn toward shades of red, as we approached there the time of Queen Ann's Lace and Black Eyed Susans and soon, asters blooming purple––a sure harbinger of fall.
And so we enter Lammastide, days marked well by a fresh baked crusty loaf and perhaps a pint of ale or a dram or two of whisky. Raise your glasses to each other and to me, if you will, and to old John Barleycorn, too. Summer is waning, autumn is coming, we are beginning to turn our thoughts toward gathering in. There is melancholy to that but warmth as well––warmth in that crusty bread, warmth in those spirits, too, and in the ones we gather to celebrate with. Happy Lammastide.
Image: "Lammastide," one of a series of British postage stamps issued in 1981 celebrating folk traditions. As for your Convivio Book of Days calendar for August, it's going to be a bit belated. Look for it after this weekend!