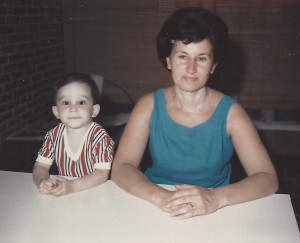 Here's a reprint of last year's Convivio Book of Days essay for Mother's Day. I found it so charming when I read it again this morning, I decided to reprise it, especially now that so many of you know my mom Millie so well through her hand-embroidered tea towels that we sell on the website. Happy Mother's Day! –– John
I'm not very good at remembering important things, but I'm really good at remembering odd things, and often with astonishing clarity. Here's a good example: it's me, walking into the basement kitchen one afternoon when I was a kid and finding Mom there at the kitchen counter, making supper. I was watching Bugs Bunny cartoons on TV, and by power of suggestion, I wanted a carrot. Mom stopped what she was doing, pulled a carrot from the crisper drawer for me, washed and peeled it, handed it to me, then went back to preparing dinner. I stood there, munching on that carrot, watching Mom at work, when a very important question suddenly popped into my head. So, I asked it: "What are ice cream cones made from?" My mother did not even pause in her work; she just kept going, and she gave me her answer: "Ice cream cones? They're made from crackers, Johnny."
Her answer was delivered with so much certainty, I figured Millie Cutrone certainly knew what she was talking about. And so I did not question it and accepted that ice cream cones were made in some process whereby saltines are crushed and pressed into cones, cones that expectantly await my chocolate ice cream. It was years before I re-examined that answer and whether I believed it or not.
I don't know that it's my mom's fault that she raised a gullible kid, and if that's one of my worser faults, then so be it. She also raised me to write thank you notes for kindnesses bestowed and to wait until everyone was seated at the table for supper and to love holidays and the traditions that come with each, so if you like this Book of Days, you should probably write my mom a thank you note yourself. It was my mom and my grandma and my sister that really instilled in me a fascination with the kitchen and that, in its way, brings me to writing about these things now. I love sharing these things with you, because of all these people who loved sharing them with me.
And here we come to the late spring day each year when we remember and honor our mothers––those we were given, and those we have chosen. And, I'd argue, all the rest of them that helped raise us: the grandmothers and great-grandmothers, sisters and aunts. To all the moms in our lives, no matter where they are: We love you. Happy Mother's Day.
Photo: That's me and my mom. It's a summer evening and I'm going to guess that I'm about 3 years old, so it might just be 1967. I'd like to tell you that it was around that time that I asked about how ice cream cones are made, but I suspect I was considerably older, perhaps 6 or 7 years old, when I fell for the crackers answer.
SUMMER HIGH FIVE SALE
At the online shop, you'll find my mom Millie as the cover star for the current HIGH FIVE SALE: Use discount code HIGH5 at checkout for $5 off your purchase of $35 or more… a sale we'll run through at least Father's Day in June, and who knows, maybe all summer long. That's on everything in the shop: our own letterpress printed books and broadsides, genuine Shaker herbs and teas, all of our handmade artisan goods for all the seasons. Plus free domestic shipping when you reach $60. CLICK HERE to shop, and thank you for your support!